I parked near a number of other cars and watched as a middle-aged woman exited her SUV. She extracted a spotting scope attached to a folded-up tripod from the back seat of the vehicle. I guessed she was the Redwood Region Audubon Society volunteer that would lead the bird-watching walk. As I approached her she greeted me.
"Are you here for the bird walk?"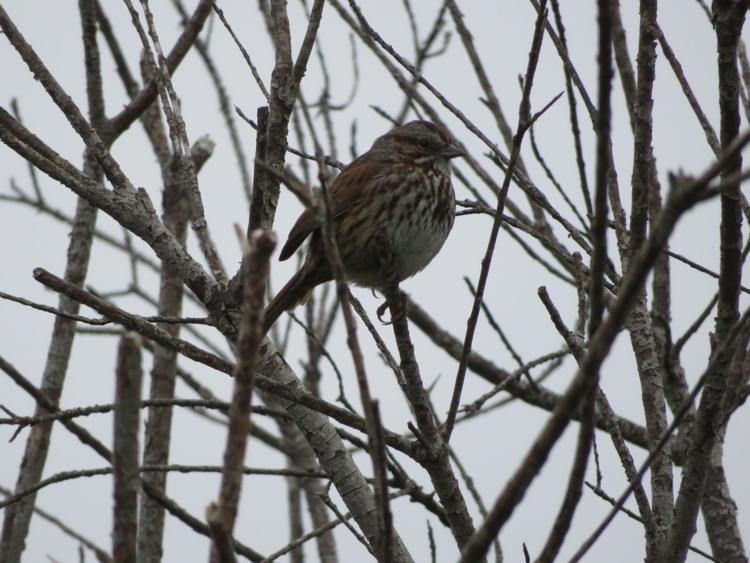 "Welcome. My name is Jude," she replied, "I have been leading this hike for about 20 years. I started by coming on the hike myself."
Other birders arrived and congregated near Jude. She greeted some by name — obviously they had been on the hikes before. She also explained the tentative route we would take over the many dikes in the marsh.
The Arcata Marsh and Wildlife Sanctuary spans more than 300 acres around Arcata, Calif. It's a fascinating place because in addition to serving as a hiking and biking destination, the marsh functions as the city's wastewater treatment facility. It's on the Pacific flyway, and bird walks are held weekly all year long. I determined to stop by during my summer away from Ashland, working in California.
"We should still see a few birds," Jude went on, "The majority of the birds have left since the spring migration is pretty much over."
I am not a birder, or the scientific term is ornithologist. I have had jobs where I surveyed for all three subspecies of spotted owls; northern, California, and Mexican; and northern goshawk. Yet I do not consider myself a birder. Those were jobs I was able to obtain. However, after I started the "new" temporary job for the Bureau of Land Management in Arcata, I learned one of my duties was to do bird counts in a number of areas. One of my co-workers told me about the Saturday morning birding walks at the Arcata Marsh. I hoped to learn the songs of birds. That was the reason I was there, no other.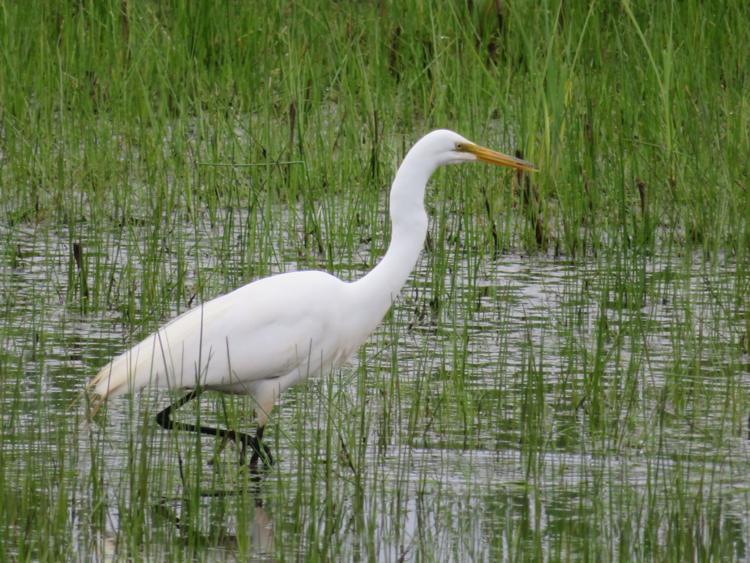 We saw and/or heard, birds that I have seen in Wisconsin such as mallards, Canada geese, turkey vultures and American robins. And crows and ravens, of course — they seem to be everywhere. I like seeing them, I like having the familiarity no matter where I am in the country. Other birds we saw or heard were the song sparrow, marsh wren, great egret, cinnamon teal, gadwall, northern shoveler, northern pintail, greater and lesser scaup, red-necked grebe, American coot, great blue heron, black-crowned night-heron, godwit, bufflehead, red-breasted merganser, female northern harrier, one of the phalaropes, western gull, Caspian tern, common loon, double-crested cormorant, brown pelican, violet-green swallow, bank swallow, lots of barn swallows, marsh wrens and others I don't remember.
I found it is difficult, at least for me, to learn the songs of many of the birds, such as the song sparrow. I thought I learned their call and then Jude said they have at least five different songs. One of the other birders mentioned an app a person could get on their cellphone to help identify the birds by their songs. I downloaded it later, but still am not confident in my ability to learn the calls. I went the next Saturday, too, but it rained all day that day. No one but me showed up. I plan to go every Saturday so that I can learn the bird calls.
But not next Saturday. I plan to go to the start of the three-day Kinetic Sculpture Race — about which you will read later.
Giminadan gagiginonshiwan (It was nice talking to you.)
Gregg Jennings is a reader, biologist, artist and writer from Washburn.