That's the greeting for almost everyone — friends, strangers, reporters carrying notebooks and cameras — who visits the growing Rainbow Family Gathering encampment in the Chequamegon-Nicolet National Forest.
The national Rainbow Family Gathering, held annually since 1972 and usually in public forests, is touted as a place for Rainbows — as attendees are known — to enjoy and promote peace, harmony and connection.
In the past few years the gatherings also have drawn plenty of not-so-welcome attention from police and warnings from authorities to neighboring communities about possible Rainbow crimes.
That's one of the reasons the Rainbows are hosting a 4 p.m. bowling party with locals Saturday at Uncle Bob's Bowling Center in Iron River.
The actual gathering isn't scheduled to begin until the week of the Fourth of July, but teams of Rainbows were already in the forest this week setting up cook stations, water-treatment and sanitation facilities and first-aid tents in the woods south of Iron River.
U.S. Forest Service police also were there, posting no-parking signs, setting up checkpoints and routinely driving through the rainbow encampment.
Among them this week wandered two Daily Press reporters who were welcomed home and greeted with "Thank you, I love you," more times than they could count.
To hear the congenial "Welcome Home" salute and meet the 400-strong vanguard prepping for the 4,000 to 5,000 Rainbows expected to attend the gathering requires a bone-rattling trip down miles of washboard-ridden dirt road and passing several U.S. Forest Service National Incident Management Team vehicles and checkpoints.
A handful of Rainbows stationed on the perimeter of the camping area comprised the first of many welcome wagons, giving helpful information as to what lay ahead and setting the tone for what visitors would encounter.
Already 11 days ahead of July 1, the official opening of the weeklong main event, a few grizzled guys — veterans of previous gatherings — had set up camp along the road near a small body of water.
Their first two words to a couple of strangers who obviously didn't fit the stereotypical free-spirited roamer look?
Further down the road people in a Wisconsin-plated car handed out ice pops to Rainbows who were toiling under the intense June sun.
The Rainbow advance team obviously had traveled from all over the country in a hodgepodge of vans, cars, trucks and buses — one bearing a slight resemblance to Scooby Doo's Mystery Mobile — with license plates from Oregon, California, New York, the Carolinas, Florida, Colorado, Georgia and all points in between.
Parking space (all four wheels off the road, please) was still available not too far from the trailhead on the road the Forest Service had designated as one way because of the gathering. And at the trailhead a woman piped up, "Welcome home!" as she arranged cooking facilities that would have to be toted about a half mile into the woods and to the giant meadow where communal activities such as meals and meditation will focus.
As Forest Service rangers passed she asked them if they had a stapler so she could affix notices to a portable bulletin board. They politely responded no, and as they drove off she called out, "We love you."
That, it turns out, is another signature phrase for Rainbows.
A short way down the trail leading to the main gathering meadow, a "Welcome Home" sign painted in the colors of the rainbow hung in the trees, and a young girl handed out small rectangular stickers printed with "Thank you. I love you."
A helpful, articulate and PR-savvy Rainbow, Adam "Finch" Buxbaum — almost all Rainbows go by monikers of one sort or another — greeted guests. Obviously among the leadership of the unofficial group, he had taken on tour-guide duties, and having personal experience with 60 regional, national and international gatherings, he had a lot to share.
At the opening of the glade, people sat in the shade greeting people and Finch set himself up behind an information counter made from wood cut in the forest. He lamented the Forest Service's campaign of harassment against the group, especially last year in Georgia, and another woman plopped down a copy of "2019 Resource Design Criteria for Rainbow Family of Living Light National Gathering" as prepared by the Washburn Ranger District of the Chequamegon-Nicolet National Forest.
But frustration was not the typical attitude of the people who lounged beneath the shade on this sunny day, many of whom were tethered to their dogs.
They happily congregated, setting up several cooking areas soon to be tasked with feeding thousands for free, building water filtration systems and arranging for emergency services should the need arrive.
When thousands more descend upon the forest looking for peace or even new people to call family and a place to belong for a short time, they will be greeted with hot food and clean water — as well as a hearty "Welcome home."
Finch and others explained that the greeting began with the first gatherings, when Vietnam Veterans returned to hostile receptions on American soil.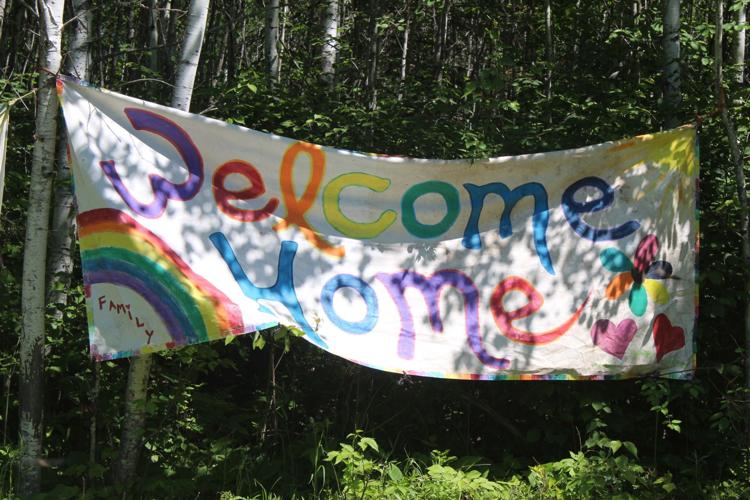 Rainbows dedicated to peace and understanding set out to give them a proper welcome home, and the phrase has stuck over time.
Visitors to the encampment — Rainbows encourage locals who want to see what they're really all about to stop by — can expect plenty of dreadlocks and tie-dyes and the occasional skunky puff of pot smoke in the air.
But at least from the early arrivals, they also can expect warm greetings from people who say they just want to be left in peace to groove with one another in the wilderness.