Peace and quiet — broken only by the occasional whisper and chirping of birds — enveloped the forest as the Fourth of July dawned bright and clear at the Rainbow Family Gathering.
Rainbows, as members of the group congregated in the Chequamegon-Nicolet National Forest are known, meditated silently on peace, love and healing Thursday.
Independence Day was to be the climax of a July 1-7 celebration of peace and freedom. But before settling down in contemplation, the Rainbows dined, danced and drummed Wednesday with gusto.
More than 5,000 rainbows were camped in the woods near Delta, all surrounding a meadow where participants ate communal meals, danced, drummed and meditated.
And they welcomed a reporter who camped out amidst the group and shared meals with them to find out what it is they seek in the Northwoods wilderness.
Tribes of Rainbows made camps in groupings — sometimes with names, such as Wanna Burn — dotting the paths leading to the meadow and around the gathering place itself.
Sometimes only a few tents huddled together, whether high on a ridge or low in a cool depression, and a few hardy Rainbows simply slept on the ground.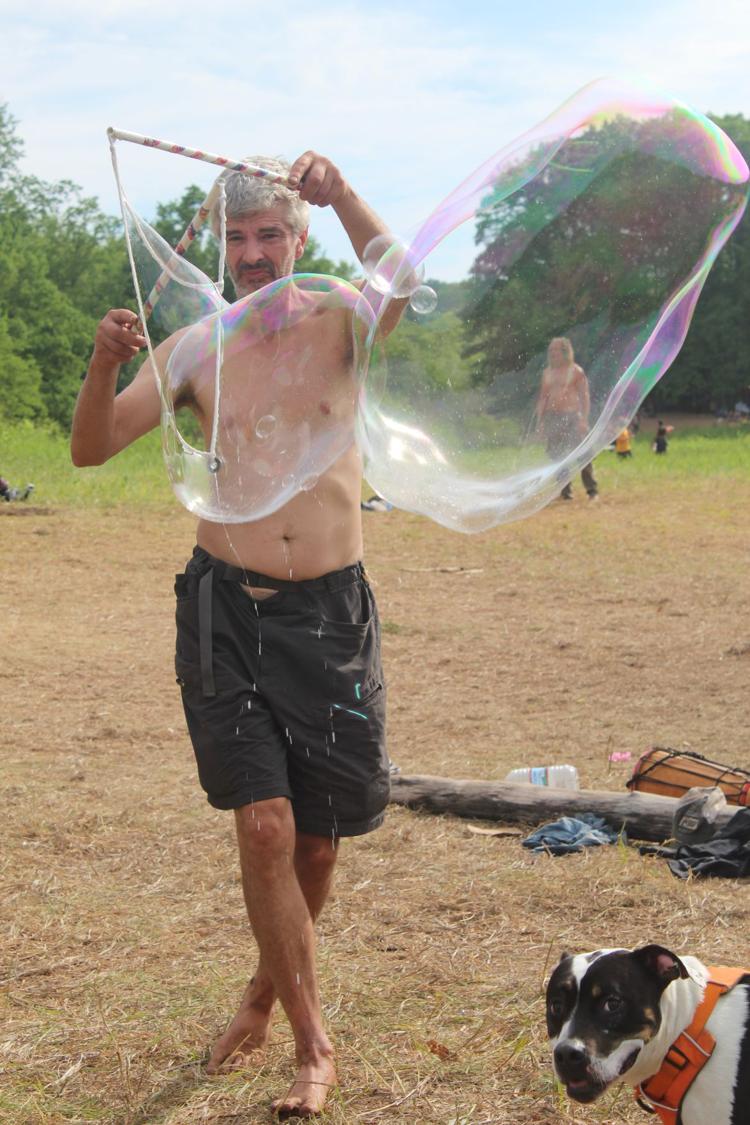 But at the meadow, multitiered tent cities on a hill or communities stretching deep into the forest harbored several Rainbows in style, with tarps covering makeshift meeting, gear and supply-storage areas. Indian-inspired hangings providing a little privacy.
Although privacy was at a minimum, Rainbows took it in stride — and took camp showers — knowing they were family and trusting to discretion when off in the woods even to pee.
Nudity was rare, but not unheard of. A handful of women walked the meadow with bare breasts covered with dreadlocks, pasties or scarves, and a toddler happily stumbled about with bottom bare. One tall, thin man, however, had taken it upon himself — off on a trail — to venture forward as naked as the day he was born.
Whether sleeping on the ground covered in blankets or standing in the open with clothes that leave little, if anything, to the imagination, Rainbows contended with the scourge of the forest — insects and ticks.
Complaints about the number of ticks frequently made the rounds during conversation, with Rainbows discussing how well nature-made insect repellents such as citronella and plain-old vinegar worked.
The bugle cry of the conch shell carried over the meadow Wednesday, signaling to Rainbows camped in the forest around its periphery that the time to dine together approached.
Rainbows inclined to the culinary arts had set up kitchen camps, such as Lovin' Ovens, Jesus Kitchen and Krishna's Kitchen, to keep their compatriots fed throughout the day and at dinner service.
Rainbows had pushed wave after wave of carts and wheelbarrows brimming with food ingredients such as eggs and cheese down nature trails destined for the kitchens to work their magic. Most of food was purchased in cities outside of the Iron River area and paid for by donations.
As shadows lengthened, Rainbows slowly moseyed in to settle on the ground in concentric circles around volunteers preparing to dish out dinner to about 5,400 hungry souls. White lines drawn on the ground marked the servers' intended path, and Rainbows faced each other across it to chat and catch up on the day's events.
The final dinner gong was a chorus of Rainbows, as prompted, crying out "Circle!" Everyone stood, joined hands and chanted a long and slow "Om" before raising their hands in joy and whooping loudly.
Volunteers doused Rainbows' hands with bleach for sanitary purposes and then service commenced. They feasted well on vegetarian and vegan delicacies such as a kale, beet and apple salad, rice, a tasty dal and sushi, and had no lack of safe, filtered water provided by the kitchens.
The Rainbows supped for free, but a brigade of musicians, followed by a Rainbow dressed as a magician, circled the diners singing and passing the "magic hat" (actually a utility pail) to encourage donations for the kitchens.
Rainbows gave more than $4,000, and they got their money's worth. No one left hungry.
Post-dinner entertainment
The day's events hardly concluded with supper. Dancing and music continued well into dawn, but kid-friendly entertainment hardly lacked.
A troupe of performers with Emergency Circus, an international nonprofit that brings shows to hospitals, homeless shelters, prisons and anyone who is "under-circused," walked the boards of the Rainbows' Granola-Funk Theatre.
The theater — an actual stage with a roof, backstage and poorly behaving solar-powered lights — had been erected at the bottom of a hill to give the audience an unobstructed view of acts scheduled throughout the week.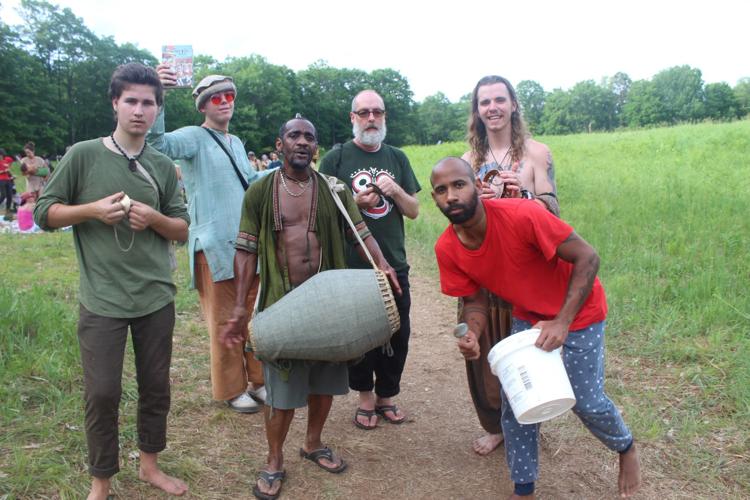 As the sun set, about 100 Rainbows and their children watched comedy-laced performances, such as four acrobats with one in a full-body blue panda suit, and a performer who put on a "Wild West" show complete with gun twirling, lasso swirling and whip cracking.
As Emergency Circus performed, a Rainbow built and lit a bonfire of several-foot-long and wide-girthed logs in the meadow.
As several drummers beat out the pace, dancers circled the blaze that was poked and prodded to send sparks flying to the heavens in a sort of nature-made fireworks display.
The drum-pounding revelry — with Rainbows occasionally baying to the moon — continued until the sun lit the horizon and the birds had taken up their morning songs.
Sometime between 4:30 and 5 a.m. on the Fourth of July silence descended on the meadow.
As the number of Rainbows swelled Thursday to about 5,900, the silent meditation for world peace had begun.