Any talk about gun control in northern Wisconsin usually receives a ton of pushback from hunters and gun advocates raising 2nd Amendment protections.
Just about nothing else in the region engenders as much passion.
However, a very close second for many is property rights and the ability to control one's land, including who can and cannot use it. Recently the issue of property rights reached a heightened state in the Sawyer County town of Draper, where local landowners are organizing against what they allege is a consistent pattern of trespassing by bear hunters using hounds on private property without permission.
On Saturday, May 29, a group of 23 gathered in the town park to discuss their complaints. Also attending the May 29 meeting was Sawyer County Sheriff Doug Mrotek and Draper Chairwoman Brenda Adler.
Steven Beining, a landowner who also hunts deer from his property off Blaisdell Lake Road, organized the meeting by posting an ad in the Sawyer County Gazette. He said of the 23 who appeared at the meeting he knows at least two were bear hunters who use hounds and the others were property owners.
For years, Beining said, he put up with trespassing, even documenting it with game cameras, but when he drove up onto his property and could see in the snow where hounds had chased a bobcat up a tree and then dragged it off his property, his attitude changed.
Tim Kelly, who lives to the south of Beining in the township and is a bow hunter for deer, also appeared at the May 29 meeting, and said the participants represented nearly 4,000 acres in the township.
The two men said the May 29 gathering drew so many in a sparsely populated township because property owners are fed up with the trespassing, followed by what they perceived as very little response by the sheriff's office to complaints.
Beining and Kelly said the bear hunters have state-of-the-art tracking technology on their dogs and smart phone apps that tell them when they are on private property, and they appear to be very aware of when property owners and even deputies are in the area via voice chatter on radio transmissions.
And they also claim most of the bear hunters are not from the area, and if they own property it is typically very small acreage, enough to stage their hounds, but not enough for hunting.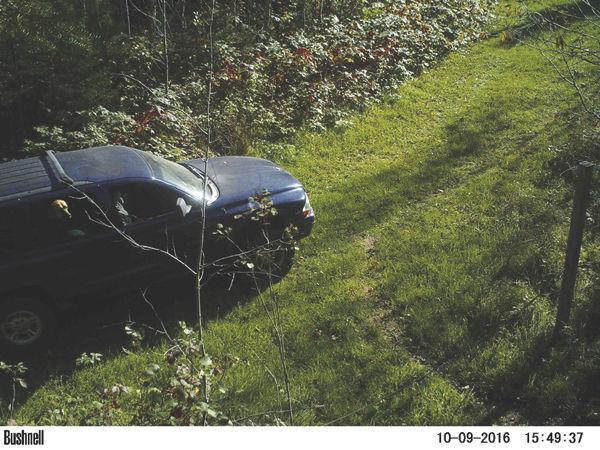 Beining also alleges that on Sept. 28, 2017, while he was posting no trespassing signs on his property a vehicle pulled up with bear hunters and one of the occupants pulled back a shirt exposing a pistol and expressing that the signs wouldn't deter him or his friends. Beining said he talked with a deputy and was told because the pistol was not taken out of the holster there was no reason for issuing a complaint.
"I've never had that kind of confrontation with any of them," Kelly said, but noted he has refused to allow bear hunters to retrieve dogs from his property and has refused to let them pass over his property to bait on nearby public land.
Carl Frederick and his father own 320 acres in the township that they use for baiting bear and hunting the animals from a stand. He said the hound hunters have repeatedly run dogs through their property, scaring off the bears for days.
Frederick said he's given information, including names and vehicle plate numbers, and indicated he was willing to report to court to testify, but to his knowledge no citations have ever been issued.
"Ten years ago I told the deputies I'm good with them just giving the bear hunters a warning," he said, "but then the same guys kept coming back and coming back and now I don't want a warning. I want a ticket."
He added, "it takes me literally nine years to qualify for a tag and I have guys running through my property with their dogs and chasing bear away. I've spent maybe $1,000 for bait and they chase the bear out."
Adler said from the feedback she's heard from landowners is a perception that the sheriff's office hasn't been responsive to complaints.
"They don't give anybody any type of citation," she said, "so I don't know what they are doing."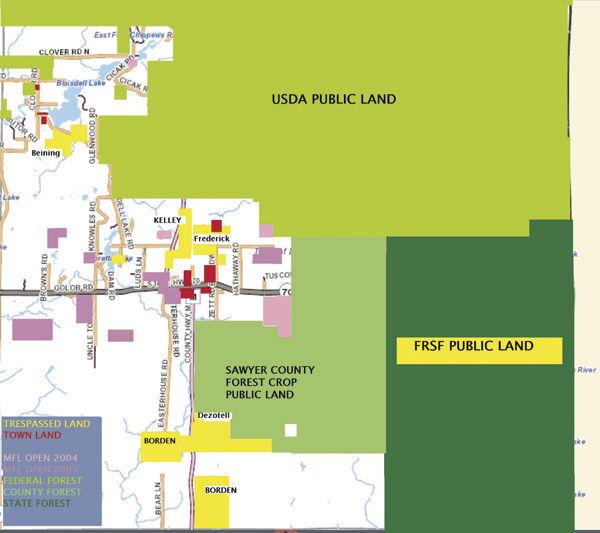 Sawyer County Sheriff Doug Mrotek said citations have been issued but he also noted deputies can use their discretion whether to give a verbal warning or write a ticket.
"When we get a complaint we investigate it," he said. "We do a complete report on the incident and there have been citations issued."
He said when a citation is issued the "burden of proof" is on his office and everyone cited has the right of due process to challenge it.
"We have to be able to verify who it is and that they were on private property, and if we fall short of that, we are not going to issue a citation," he said.
Kelly said he was willing to testify in court against individual bear hunters but he said no complaint was issued. Mrotek said there could be "extenuating circumstances" for not issuing a citation, such as if the trespasser expresses a willingness to not repeat the offense.
The three hunters and landowner who talked to the Record allege the trespassing occurs because the bear hunters bait on public land with private land nearby and then the dogs pursue the bears into private property.
One simple solution would appear to be to bait and hunt on the large tracks of public land nearby in the township. But one bear hunter who talked to the Record asking that his name not be used said those large public tracts are already heavily hunted by others
The bear hunter alleges the pushback against hound hunters started a couple of years ago when hound hunters took a very large bear that a bait and stand hunter thought should have been his.
"I'm not going to lie and say we never cross private property," he said. "But if they knew how many times we catch our dogs crossing into private property they would be surprised, but sometimes we don't get them."
The hunter was asked if there is any way, when tracking dogs, to stop them from a distance using the tracking gear on the dogs.
"There are shocking devices that you could try to turn around one dog," he said, "but you can't turn around a pack of five or six dogs."
Concerning landowner property rights, he said every year at the Wisconsin Bear Association annual meeting it's the No. 1 issue discussed.
"It's always the biggest issue with dog hunting because the bear goes where it wants to go and the dogs follow," he said.
The bear hunter said he had formerly hunted with a group in public forest but because of too many others he left and had been in the township a couple weekends in July and August. He said with more people moving into the township it was becoming more difficult to hunt there.
Beining said he was recently at a golf league event where he met others from the towns of Winter, Ojibwa and Radisson who were interested in the May 29 meeting and in holding a similar meeting in their townships.
He said the Draper group will work on documenting future complaints and also advocating for property rights.