A witness testified Monday that he saw two suspects beating and kicking Shane Cadotte in September of 2017 at the remote site at which his body later was found.
That testimony was a key piece of the prosecution's case against Michael Dwane Sweet and Brian Matthew Nelis, who are accused of stabbing and beating Shane A. Cadotte to death.
Their trial in Ashland County court began Monday; both face mandatory life in prison if convicted of first-degree intentional homicide charges.
The jury, made up of seven women and five men, is scheduled to spend most of this week hearing details about how Cadotte of Odanah was killed and how police concluded that Sweet and Nelis other were responsible. They are accused of beating and stabbing Cadotte to death at a remote location on Bear Trap Road on the Bad River Indian Reservation. An autopsy revealed that Cadotte died of "homicidal violence, including multiple stab and incised wounds of the head, neck and extremities and blunt force trauma of the head."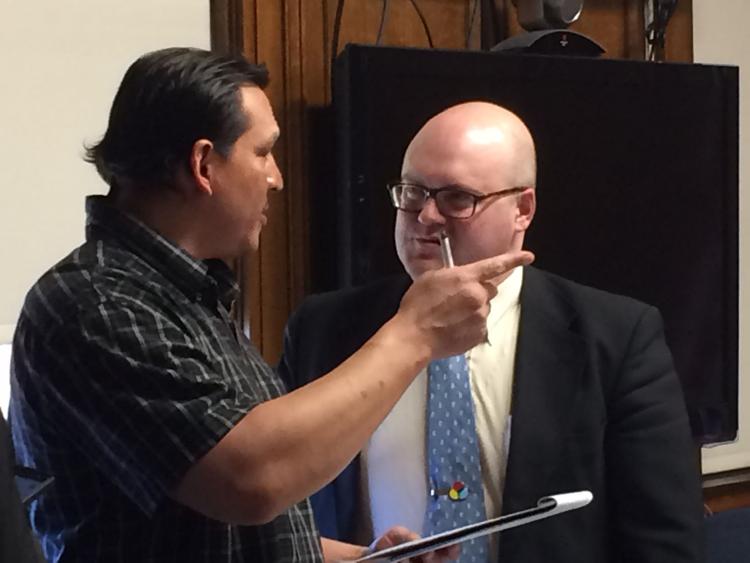 Two witnesses — Ronald Wilson and April Blaker — testified Monday about events leading up to Cadotte's Death. Wilson testified that he was in a car with Cadotte when Sweet and Nelis dragged Cadotte from the car and began punching and kicking him. As the two men dragged Cadotte into the weeds on the side of the road, Wilson fled, he said.
The assault appears to have been triggered when Sweet saw Cadotte with Blaker, whom Sweet formerly had dated, according to court records. Sweet, 41, has an extensive and violent criminal record dating back 20 years in Wisconsin.
Assistant Attorney General Chris Liegal, who is prosecuting the case, said he might be able to wrap up his case by the end of Tuesday.
Nelis, 41, of Odanah, has been held in the Ashland County jail in lieu of a $100,000 bond, while Sweet has been imprisoned at the Green Bay Correctional Institute on another conviction.