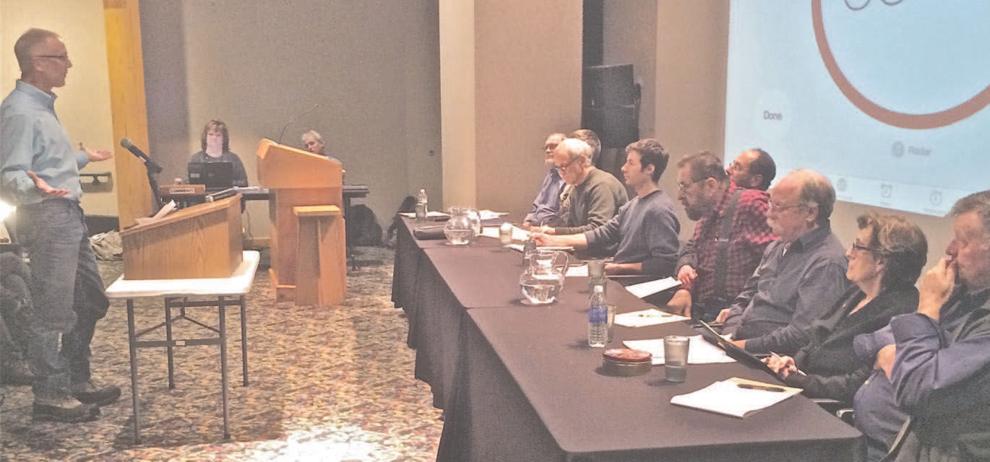 Members of Bayfield County's Large Scale Livestock Study Committee got an earful from over 40 speakers who offered testimony about a proposed Concentrated Animal Feeding Operation (CAFO) planned for the Town of Eileen in Bayfield County.
The event was held to obtain public input into a proposed operations permit that would regulate the activities of the 26,000 hog-rearing complex.
According to committee chairman Fred Strand, the meeting met the goals the committee had hoped for. He noted that the committee meetings in the past have been open to public participation, but this was the first meeting specifically set up to receive comment about the committee's draft report and its recommendations.
Strand estimated that there were 80 to 100 people in the audience, and over 40 of them spoke before the committee with others dropping off written comments.
Strand noted that there were no speakers who addressed comments in favor of the proposed hog rearing facility.
"There were people whose
comments were probably neutral, but most people fairly expressed some dislike of CAFOs," he said.
Strand said what the committee hoped to take away from the meeting was a sense of the feeling of the public for the proposed operations regulations which, when refined into their final form will be presented to the Bayfield County Board for their consideration.
In the comments Strand said the committee heard from people who were adamantly opposed to any CAFO development.
"We also heard the accusations that county board people say 'we can't do anything about it,'" he said. "Well, as a matter of fact, we can do some things about it. But if your goal is not to have CAFOs, we probably can't do that. But if they come, we want them to be good neighbors and keep our environment clean and our public health safe."
"The takeaway is that we all need clean water, whether you are a farmer or a consumer of farm products," Strand said.
One of the opinions that many speakers voiced was the need for strong regulation of any CAFO.
"As you finalize this document, I urge you to increase barriers to meat factories at every opportunity," said speaker Roz Nelson. ""Please be courageous; our water our lifestyle is worth anything at this point. Our backs are against the wall on this issue."
Nelson warned that the cost of waste management caused by a CAFO would be borne by the public for generations to come. She warned about the possibilities of pig-borne viruses affecting neighboring farms, the dangers of hormones used in pork production and antibiotic use as well as loss of lifestyle choices and property value declines.
Speaker Richard Retiring said the county should not adopt the attitude that there was nothing that could be done about CAFOs.
"I believe that priorities are confused when county administration willingly participates in litigation for snowmobile trails but is not willing to stand firm for the protection of our waters," he said. "Please adopt the strictest possible operations ordinance that is possible, and move to extend the moratorium to the full limit of the law," he said.
Speaker Missy Stevens thanked the County Board for enacting the moratorium on CAFO development.
"It has given us time to separate facts from unsubstantiated rumors and propaganda," she said.
Stevens said the education process has given area residents time to "realize the gross inadequacies and lack of oversight in the current state regulations that are supposed to protect s and our natural resources."
She cited Kewaunee County as an example of he inadequacies of current state law, asserting that contaminated water wells and a 30 mile wide "dead zone" in Green Bay was the result.
"We know better than to trust big business, the promises made by big business, as their goals are in sharp contrast to ours as a community," she said.
She observed that under current state laws, CAFOs were largely self-regulating and self-regulating activities like water usage, nutrient levels, manure storage and spreading.
"This one CAFO will be comparable to a city of 50,000 people suddenly dumping their untreated waste into the Chequamegon Bay," she said. "This statistic alone should be reason enough to justify enacting the most stringent regulations possible."
Speaker Joe Rose, a member of the Bad River Tribe of Lake Superior Chippewa Indians said it was important that the voices of the people should be heard.
"I think that we have to exert our local control to the best of our abilities," he said.
Rose noted that as a resident of Ashland County, living on the shores of Lake Superior, he was likely to be affected by the CAFO's potential pollution.
"It does not know physical boundaries," he said.
He recalled the big floods of the past and said the siltation plume from Fish Creek covered all of Chequamegon Bay and all the way out to the Apostle Islands and to Saxon Harbor.
"In a flood stage, I doubt if we have the technology or the financial resources to control those floods," he said.
Rose said the Bad River fish hatchery raises an average of 10 million walleye fry a year, plus fingerlings that are released into two different river systems that empty into Lake Superior.
"Are we going to be releasing those walleyes into polluted waters?" he asked. "We already have a Superfund site. There is another potential SuperFund site at the old DuPont munitions plant in Barksdale. Do we need another SuperFund site?"
State Representative Beth Meyers said she would try to be a partner with the county to share information as it becomes available.
Meyers advocated that the CAFO be required to post a bond to take care of environmental problems that could occur.
"They require that of nursing homes right now. If you are providing health care to someone, on that large of a scale, you have to have money set aside to make sure you are doing your job," she said. "It is an $88 billion industry; that is what you are up against. But don't let that daunt you in your task to protect the water, the land and the air of this area."
Strand said that hearing from the public was an important part of the process of designing an operations permit that would protect the region.
"Before we finalize our report to take to the County Board, we wanted to hear from the people, to have them tell us what is good, to tell us what needs to be improved or changed," he said. "And we have heard much of that tonight."