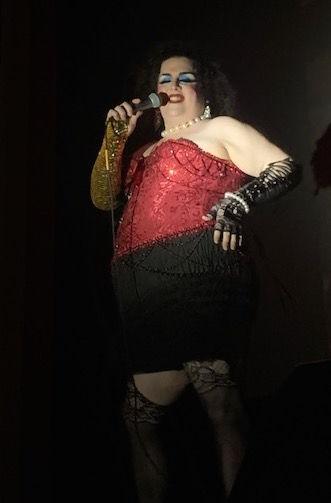 When Sophia Douglas heard "The Rocky Horror Picture Show" was playing at Bay Theater Friday at midnight, she couldn't wait to see it.
Even if it took hopping on a ferry from her home on Madeline Island to get there, nothing was going to stop her.
"I love midnight showings of anything and I love "Rocky Horror." It's been so long since I've seen it," she said.
She brought best friend Inara Curry of Washburn with her because Curry had never seen the film.
"My friends were like, 'You have to come.' I'm really excited about it," Curry said.
They were among the sold-out crowd that filled every seat Friday night at the Bay Theater in Ashland to watch the iconic film and see Ashland native Dora Diamond perform during the preshow. The screening and a separate show by Diamond, a drag queen, were part of the Bay Area's Pride celebration.
Warming up
A roar of applause filled the theater when Diamond took the stage, dressed in her hand-stitched costume.
"I've been waiting months for this," Diamond said, drawing more applause. "It's an honor to have been invited to be part of this. I've been a lover of 'The Rocky Horror Picture Show' for almost 20 years and never in my life thought I would be doing something like this."
After the formalities were done, she invited Rocky Horror newbies to the stage to play the "virgin games."
Diamond wrote the letter "V" on them to single them out for not having seen the film and proceeded to spank consenting adults with a whip.
On to the show
Moviegoers adhered to none of the rules typically followed when seeing a film at the theater.
That is because "The Rocky Horror Picture Show" is not like any other movie.
Rocky Horror newcomers had no idea what to expect as veterans jumped out of their seats to dance along to the song "Time Warp," yelled profanity at the movie, threw rice, ice and water at the screen, and turned on their cellphone flashlights to simulate lighters in the air — all part of the interaction that has become part of "Rocky Horror" over the decades.
This is the first event of its kind held at the Bay Theater. The fact that it was sold out meant a lot to Manager Jon Huybrecht.
"I did this show in college. So this is very nostalgic to me. It was actually around the time I was coming out of the closet. So for me, this has a special place in my heart," he said.
Huybrecht is not the only one who holds the move so close to his heart.
"Since its inception, it's kind of cemented itself as safe haven for queer people to gather together to enjoy the film, be themselves and not have to be afraid of who they are, even if it's just for 90 minutes," Diamond said.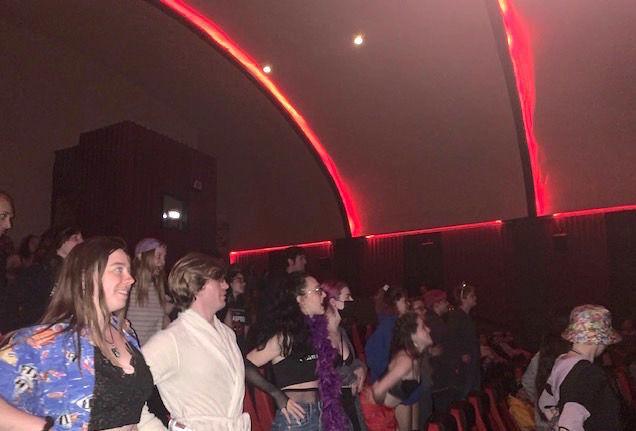 The show kicked off a weekend of events celebrating Pride Month in Ashland. The festivities continued Saturday at Kreher Park on the shores of Lake Superior with the second annual Chequamegon Bay Pride Celebration.
A large crowd heard an afternoon of motivational speakers and live music.
"We want to show everyone that we are here together, despite how lonely we sometimes feel. Love is love," Vince Schueren said in between singing alongside Sean VanZeeland and the Pride Community Choir.
The feeling of togetherness continued through the night at a drag show at Ashland's Stagecoach Bar and Grill.
Diamond and "frenz" Beth Anne Bodyworks and Kaden Cosgrove entertained over 75 people packed into the bar with live music and entertainment that got people out of their seats and on to the dance floor.
Before singing a final song, Diamond reminded the audience of how important it is to be supportive of LBGTQ+ children.
"Queer children exist. Transgender children exist. When you don't support queer and transgender children, you are not creating happy children. You are creating an unhappy child. When you start to support children in your community and let them be themselves, that means they can grow up to love themselves and make the world a better place," Diamond said.
More than expected
When organizers were planning the celebration, particularly the drag show, they were not sure what kind of reception to expect in the Bay Area.
"For the drag show, we wanted it to be a first for the area," co-organizer Bradley Schaeffer said. "We were hoping for a good amount of people, but the joint just filled up. This is exactly what we were hoping for."
Diamond was also overwhelmed by the amount of support.
"The love in the room was palpable. It felt so right. The people came out and proved that there is a queer community in Ashland. They are proud to be themselves and be in a city that reciprocates that love," Diamond said.
Bodyworks said the success proves Ashland is an open and accepting community.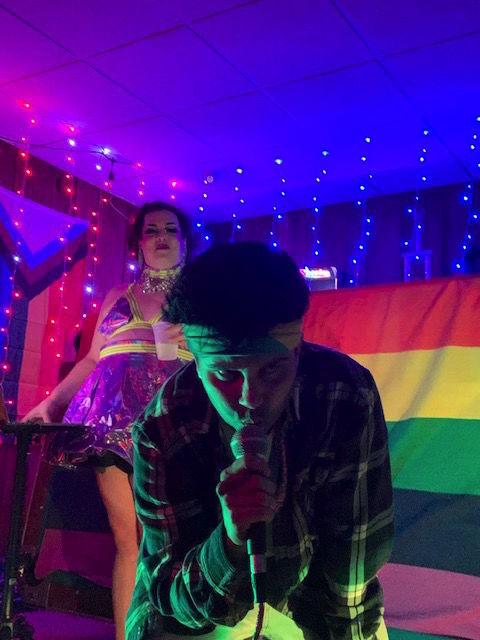 "It makes me excited to see what the years to come are going to be like because that was so supportive and affirming in so many ways," Bodyworks said. "To me, this is an indicator of broader change that has need to happen for a while."
Attendees already were talking about next year's event before the weekend was over, Schaeffer said.
"We're going to regroup and start planning for next year," Schaeffer said.