Squeezing every penny: Bayfield's Blue Ox Cider to brew special batch with donated applies for nonprofits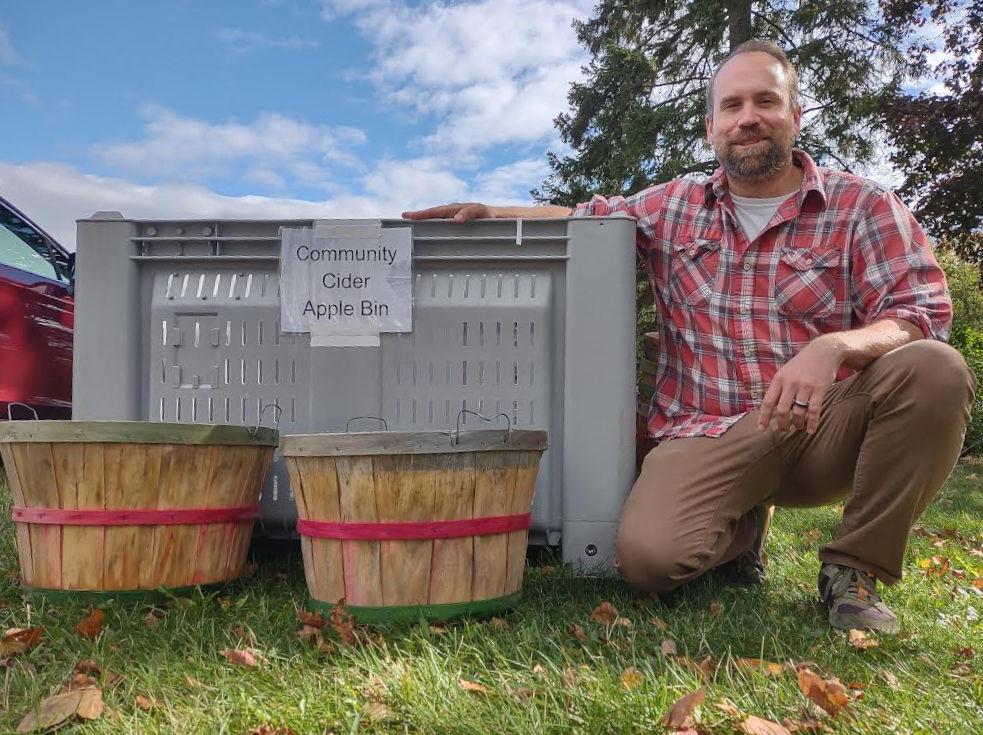 Phil Bratsch hates to see anything go to waste.
The owner of the Bayfield Winery and Blue Ox Cider has allowed some of his land in the hills outside Bayfield to be used for such innovative crops as hazelnuts and experimental varieties of seedless table grapes in addition to his production of wines and ciders — products that have become popular tipples for visitors to the Bayfield orchard region.
But the man who depends upon apples for his livelihood and who wants nothing to be wasted was bothered every fall when he watched piles of fruit that fell from trees around Bayfield being used only by deer and other critters, with most left to rot.
This year he's come up with a plan to do something useful with those unused apples and at the same time help out Bayfield non-profits. Bratch has put out word that Bayfield-area residents who gather fruit they don't plan to use and bring it by the cidery on Betzold Road will help him make a special edition of hard cider.
"There are apple trees on a lot of the farms, in the county forest, even," he said. "There are so many wild trees, and I'd just like to see them go to use. It's an idea we've had for a few years, if people brought us apples, we would make the cider and donate 100% of the profits to a different non-profit every year."
Bratsch said anyone who drives through orchard country can see how many apples are going to waste.
"The farms are just lined with apple trees, and some of them are better cider apples than the desert apples. They leave a little more flavor after being made into cider," he said. "For one of our ciders, we actually go into the county forest and pick some wild ones for it."
Bratsch said he works one day a week at Mt. Ashwabay during the winter, helping him understand how difficult it can be for non-profits to make a go of it. The ski area will be the first beneficiary of his cider project.
"They have a real need for more kid's gear. They do such a good job of getting kids out for free or sometimes just three bucks for rentals. So I thought a good way to get new gear is for people to bring us apples and we will make a delicious hard cider out of that. We will be pairing up with a local artist and we will make a new label every year, tie it in with the non-profit and have some fun with it each season."
Bratsch said because the word has just recently gotten out, he's already received some apples — though not nearly enough.
"But we are starting to get more people emailing us and calling us, because we are early-ish into the apple season," he said.
Bratsch has set up a bin for apple donations and is even offering to lend out bushel baskets to gather donations.
"We are hoping to raise some funds, and to have a lot of fun with it, and to get the community involved in it," he said. "That's the fun part, getting people involved in it. For me it is a passion to get out and make good hard cider, but to be able to get the community involved in this project — it will be fun to see to see how it progresses."
Bratsch said any sound apples, whether plucked from the tree or found on the ground, are acceptable as long as they don't have any rotten or heavily bruised areas. Unsprayed apples are also preferred.
"We are hoping for a wide variety of apples. We want crab apples, tarts and even bitters. They make really good ciders," he said.
Mt. Ashwabay Manager Doug Olson said he has high hopes for the project and is eager to see how it turns out.
"The more apples the better," he said. "We are a non-profit, little ski and recreation area. It helps us run our programs, and get more kids off the couch and into the outdoors doing things. It is a small population that we serve and there is a limited amount of revenue that is to be gleaned from that. We don't want to lose the programs we have and I don't think the community wants that either. We rely on the community to keep us going."
Olson said using what would otherwise have been a wasted resource was "a really neat idea" and one that made the donation to Ashwabay painless as well as refreshing.
"Just about everyone out here has an apple tree or two. Even if you don't take care of the tree, just gather the apples up and put them in the bin," he said.
Olson noted that Mount Ashwabay was celebrating its 75th anniversary this winter. He said there would most likely be a party to celebrate the milestone.
"This cider should be a part of that," he said.