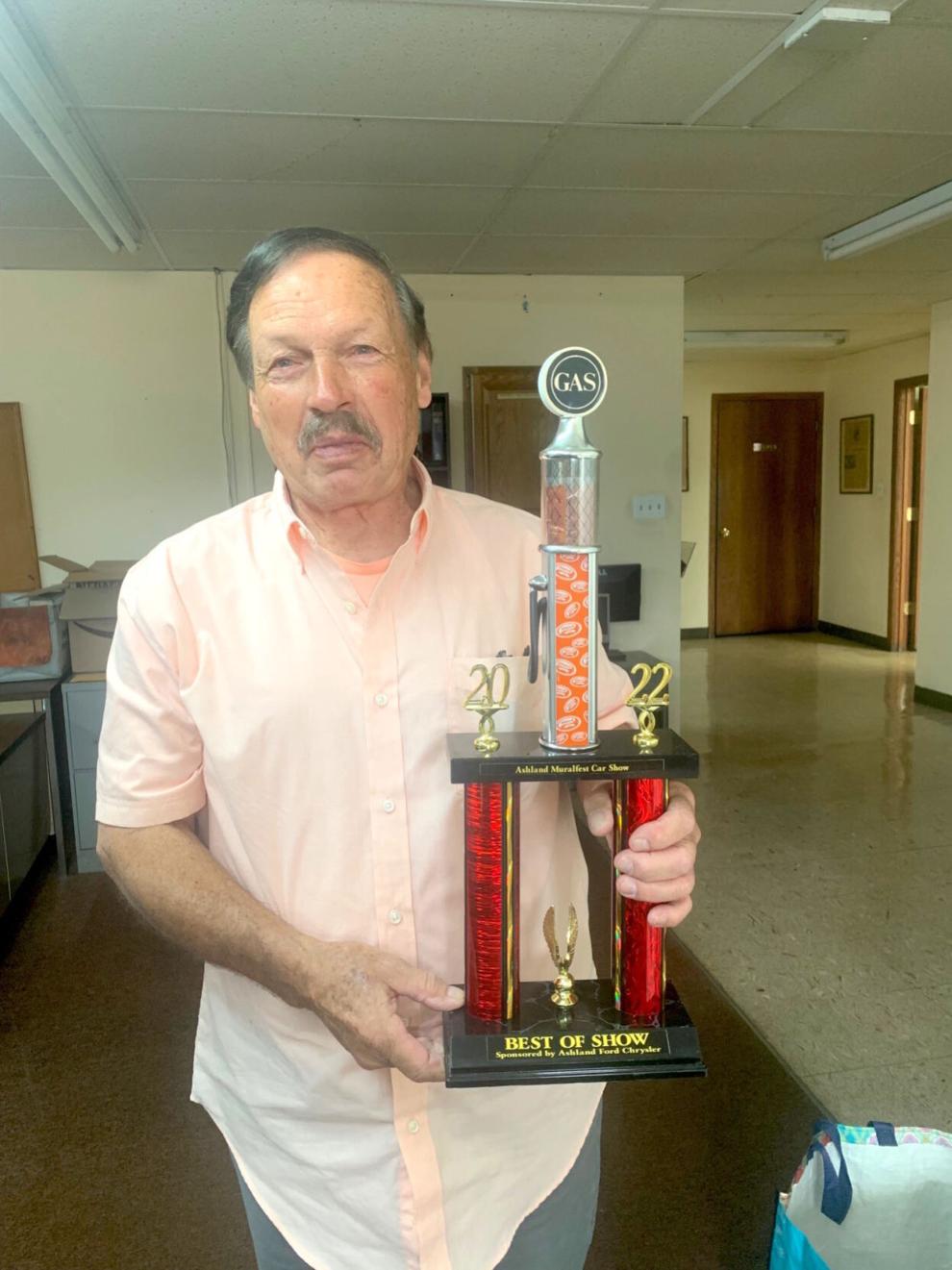 Editor's note: This story has been edited to correctly say when Jim Bodin ran previous car shows. 
Jim Bodin doesn't spend hours before a car show polishing the fender of his 1965 Plymouth Barracuda in the hopes that it will win a trophy.
He instead spends those hours assembling the trophies themselves.
"I order pieces, cut them and put them all together. It takes an hour to make each trophy," he said, presenting a two-foot-tall award topped with a replica vintage gasoline pump.
That trophy will be the top prize for the Sept. 10 Mural Fest and Car show in downtown Ashland.
Bodin will help run that show, registering all the competitors, tallying all the votes and handing out all the prizes. He even selects the music that will be played while the cars are being shown.
"I play music from the 1950s-1960s — that's what sets the mood," he said. "I think I'm 18 when I'm there."
The music and trophies are key parts of the show, but it's the cars that drive it, so to speak. After all the work is done, Bodin enjoys standing back and watching crowds oooh and ahh over their favorites.
"People go, 'I remember that one,' or, 'My dad had one of those,'" he said.
His wife, Linda, likes to attend car shows with him and enjoys talking to attendees, learning more and more about the cars they bring.
"It's unbelievable the cars you see," she said.
The Mural Fest and Car Show is one of several Bodin has been hosting in the area for decades. He also ran the North Coast Car Show in Washburn and Bay Days show in Ashland.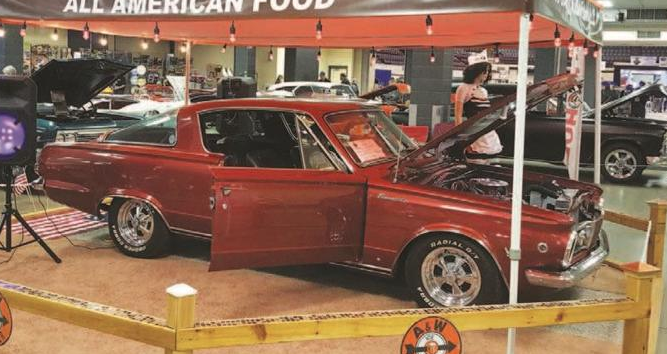 His passion for car shows started the moment he set eyes on a 1955 Ford Thunderbird.
"My dad wanted one, too. It's a terribly unique car. I just love it. It's beautiful," he said.
The local classic car enthusiast now has not only his dream car, but also several other classics in his collection — the 1965 Barracuda, a few Ford Mustangs, a restored 1948 Packard, a 1954 Pontiac Star Chief and a 1955 El Camino, among others.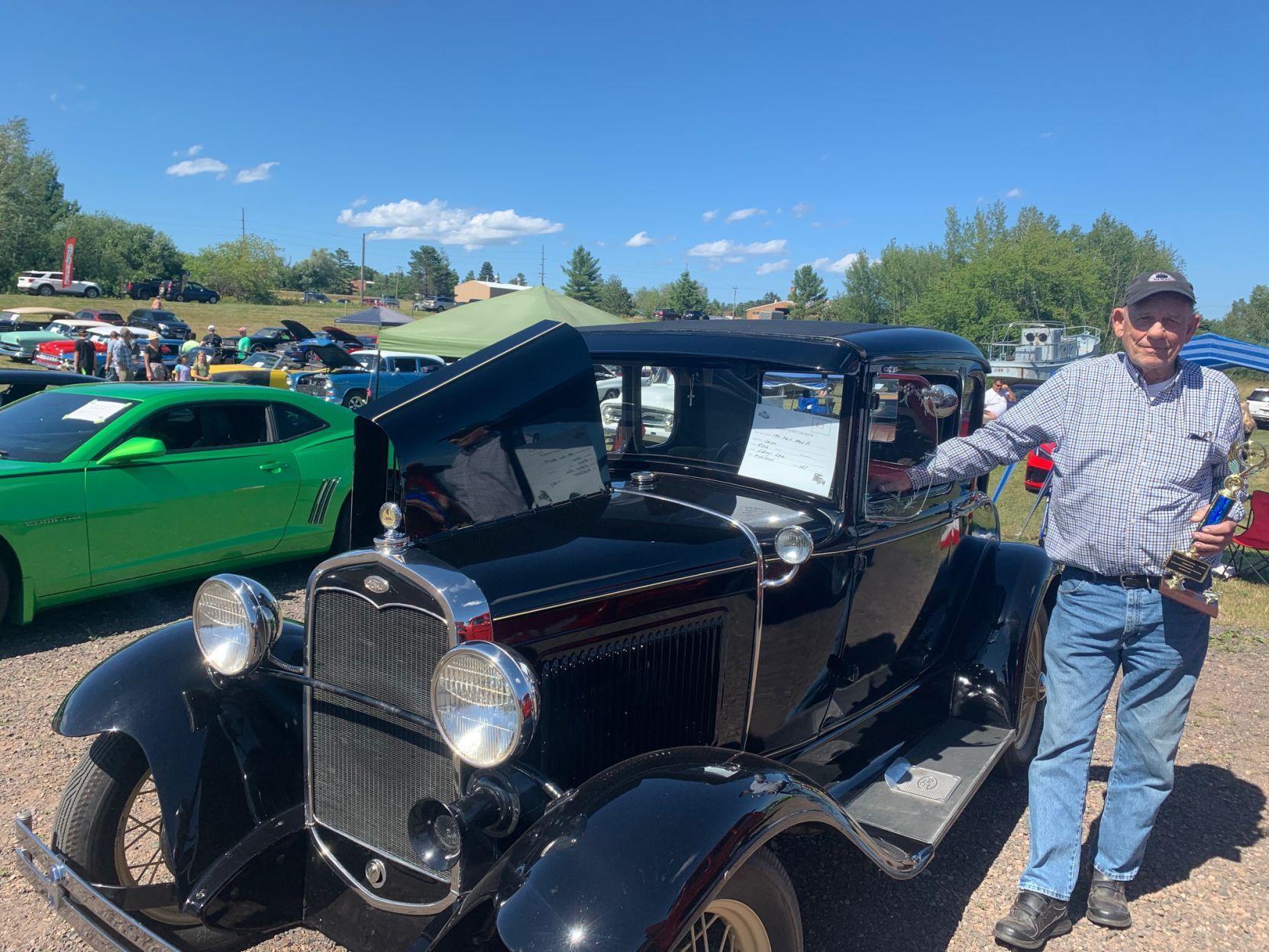 Fellow collector Larry Lee's passions run a bit older. He recently displayed his Ford Model A at the North Coast Car Show.
Lee has fancied the Model A since he was a little boy.
"I'm proud to show it and people enjoy it. It's a piece of history. It takes them back," he said.
Bodin can appreciate cars like the Model A, built in the late 1920s. But he also appreciates the art and beauty of some of today's cars.
"There are some collectors who might reject to this, but we have a class in every show for modern cars," he said. "New Corvettes, Mustangs, Camaros —we want them in the show, too. We're going to fade away if don't welcome them, too."
New and old Mustangs and Camaros will always be popular. The latest vehicles to take center stage at shows have been vintage trucks.
"It's become popular to have a truck that is really fast and loud," Jim said.
"That's the part I don't like," Linda joked.