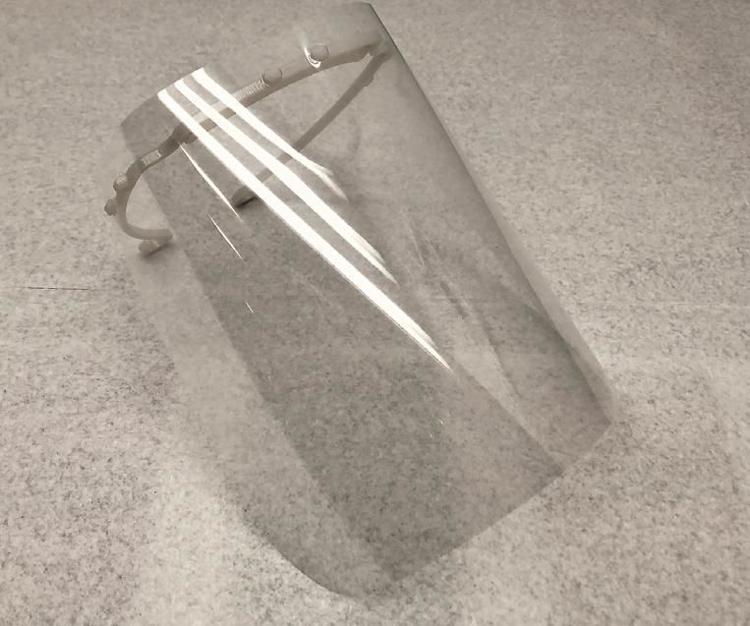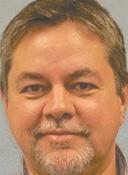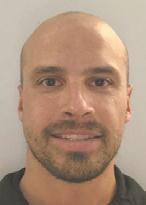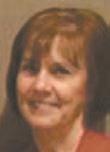 Randy DeMars was checking out some videos on YouTube when he saw one that really caught his attention.
The story dealt with the construction of protective face shields using 3-D printers — the same sort of shields that health care workers desperately need to protect them as they care for coronavirus patients.
There's not much to them, just a plastic headband that holds a clear plastic sheet to protect the face and eyes, but they can make the difference between life and death if a patient coughs or sneezes in a doctor or nurse's face.
And DeMars, a sales representative at C.G. Bretting Manufacturing Co. in Ashland, realized while watching the video that Bretting's equipment could easily bang out plenty of masks.
"I did a little bit of research into how to find the model — when you use a 3-D printer you need a computer assisted design model, and there are places out there that had created them and made them available," he said.
DeMars went to company leaders including Chief Operating Officer Paul Bretting on March 27.
"So we contacted the hospital and asked them if they would like us to try this. They said sure and we had the first 10 on on March 31. They took a look at them and said 'Yeah, those would work' and that's when we started our two printers going on them," Bretting said.
By Monday, Bretting had manufactured 80. While the shield holder is made on a 3-D printer, the replaceable shield itself is stamped from stiff transparent plastic originally intended for use in an overhead projector.
"We also have a number of employees who have also gotten involved with their
own 3-D printers. It's been a cool, complete company effort to run these parts," Bretting said.
From there, the idea spread to Washburn Iron Works, where the company jumped in immediately.
"Bretting reached out to me last Friday because they knew we also had a 3-D printer and they asked if we could join in to speed up the production of the bands," said Washburn Iron Works coowner Cole Pearson.
By Sunday, Pearson's machine was producing shields, too.
"That's the great thing about 3-D printing; they just sent me an email with the file that they were using for the band, and 10 minutes later I am able to load and format it for our printer and start printing. We are continuing to print as we speak," he said.
The Washburn operation had produced 84 bands of a planned 400 between the two firms, all for Memorial Medical Center and Ashland Health Services.
"We are going to reach out to a few others and see if we can help them," Bretting said.
The shields are vital because they allow emergency personnel to extend the use of their cloth facemasks, which are in critically short supply, by protecting them from contamination.
Bretting also has built seven custom plastic boxes for MMC that allow physicians to perform such tasks as intubation of patients onto respirators while limiting their exposure to coronavirus. They are essentially three-sided boxes with covers that fit over a patient. The physician, who is gloved and gowned, works through a pair of armholes cut into one side of the box. They prevent widespread contamination caused by a patient coughing or sneezing while the procedure is taking place.
Both the masks and the intubation boxes are being provided free of charge to the hospital and nursing home.
"It's a very big deal for us," MMC Chief Operating Officer Karen Hansen said of the shields and boxes. "It definitely protects our staff. It is one of the items that we did not have a lot of in our inventory and was difficult for us to get."
As of midweek, more than 100 shields had distributed among hospital staff.
"They are very happy. Bretting Manufacturing has designed something that is comfortable for them to wear and gives them full face protection," Hansen said.
Kristin Mueller, senior director of communications for North Shore Healthcare, which includes Ashland Health Services, said her company was equally pleased by the donations.
"We are very grateful for the thoughtful donation by Bretting Manufacturing," she said. "In the care of our residents, wearing personal protective equipment is critical in keeping them, as well as our staff, safe. It is community partners such as Bretting that help our caregivers continue on with the fight against this virus. It helps lift them up knowing there are many people in their corner."