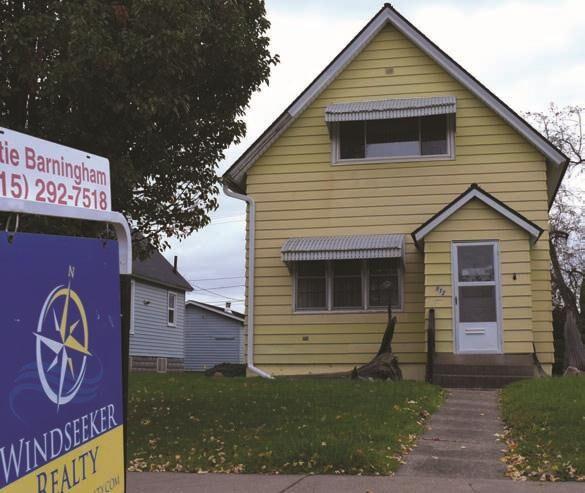 Brandon Ehmke and Miranda Paetow of Ashland have been looking for a starter home in the Ashland area for more than a year, but like scores of other buyers, they've been stymied. They need a house that will accommodate them and 11-month-old son Phoenix, and after checking out yet another home on Vaughn Street Wednesday, they still came up empty. Like almost every house they've considered, this one needed too much work to be worth the asking price.
"A lot of the houses, especially in Ashland, just needs updating," Ehmke said as they checked out the kitchen. "So it's difficult."
The housing market in the Bay Area continues to mirror a national trend, with prices going up so quickly and stock so low that quality homes sell almost immediately, leaving scraps for buyers like Ehmke and Paetow.
Local housing prices
Ashland
• $107,000: median price of home in 2019
• $136,000: median price of a home as of September Bayfield
• $168,000: median price in 2019
• $240,000 median price as of September Wisconsin
• $198,000: median price in 2019
• $240,000: median price in September
Source: Wisconsin Realtors Association
The Vaughn home they were looking at, for example, probably would have sold for $40,000 pre-pandemic. Today, it's selling for $85,000, said Jim Moran of Anthony Jennings and Crew Real Estate.
"Prior to the pandemic, everything was OK. Then all of a sudden, to build a new house cost so much money that there's no new houses being built," he said. "So everybody's juggling around with these used houses and nobody's buying a new one. They look at a used one and ask how much would it cost to build and, because of the building prices, they couldn't afford it. So there's nobody's building houses and everybody's buying used houses. When you do that, the prices go up, up, up because the demand is there. This will sell for that price."
But the couple hasn't given up hope. For now, they're sharing a home they rent with Paetow's parents.
"It just takes time. You got to wait and find the right home," Ehmke said. "We just want a place of our own."
That's all that a lot of buyers are looking for, Anthony Jennings of Anthony Jennings and Crew said. And he didn't pull punches when asked how things look for buyers right now: "It sucks," he said.
It wasn't always this way. Prior to the pandemic, the area was a buyer's market with plenty of houses for sale. Then, about two months after the government lifted the stay-at-home protocol, everything changed.
COVID-19 has caused people from out of town to want to move to more rural places such as Ashland, he believes.
"Then it's just been busy ever sense. People are trying to move here to get away from congested areas. That's what I think," Jennings said.
With so many buyers looking to purchase homes, Jennings has had houses sell even before they hit the market. That doesn't always happen, he said; most often it takes an appropriately priced home in the Bay Area a couple of weeks to sell.
The question is, how long will the market remain this way? Neither real estate analysts nor Jennings can answer that.
"(I've) been doing this for 32 years. I've seen peaks and valleys. Never been able to predict it," Jennings said.
Finding a place to rent is just as difficult as find a home to buy. It only takes a few days after advertising an apartment for Lisenby Properties in Ashland to fill a vacancy, business manager Lynda Lisenby said.
"(It's) been this way for the last year or so," she said. She has a waiting list of people looking for a place to rent, but Lisenby said by the time an apartment becomes available, often they have found something else.
Those with a good rental history should have an easier time finding a place, Kevin Porter of Porter Realty pointed out. But even if a candidate is qualified, they may have to wait a while to find a place available.
"Rental units open up slowly," Porter said. "If someone a comes along and doesn't like the first unit, it might take another month for another."
Ashland city officials have been aware of the affordable housing problem for several years and are trying to address it, Mayor Debra Lewis said.
"It's a long-term solution. We've been encouraging development of all kinds of housing," she said.
People looking to rent in Bayfield face another problem, as property owners have been converting homes and apartments to Airbnb shortterm rentals. It's not uncommon for property owners to make more by renting a place to someone for a week on Airbnb than they would leasing to a tenant for a month, Moran said.
"They would rather have their own place for a week then get a hotel room," he said.
One solution to the housing problem is slated to break ground next year, as 50 affordable housing units are going to be constructed near Walmart in Ashland.
"It will help some, but it will just be a dent," Lewis said.
For now, Ehmke and Paetow will keep looking, keep waiting for the right house to come on the market at the right price.
"You don't want to buy it just to get into something. You want to buy something that can be your forever home," Paetow said.