Group plans Sept. 26 event pending COVID-19 developments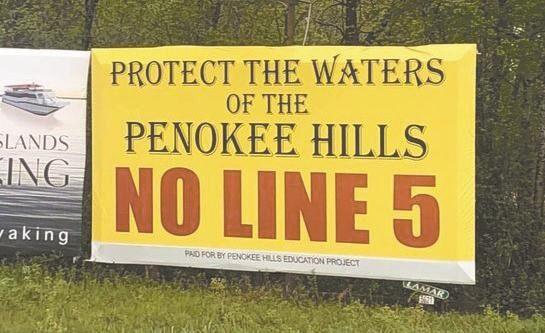 Billboards on Ashland's south side opposing Enbridge Energy Co.'s Line 5 through the Penokee Hills were stolen in July and August, but the group responsible for the signs will erect a new one and is planning an event to celebrate protecting the environment later in September.
Frank Koehn of the Penokee Hills Education Project said the environmental group originally formed to educate people and protest the proposed Gogebic taconite mine in the wetlands east of Mellen. Those plans fell through in 2015.
Now it has regrouped on a mission to urge people to take an interest in the proposed reroute of Enbridge's Line 5 to the south of the Bad River Indian Reservation in Ashland and through the Penokee Hills.
"If they support the pipeline, that's all right," Koehn said. "It's just we need to be fully aware exactly how precious that whole region is."
The Canadian energy company began looking to move Line 5 after the Bad River Band of Lake Superior Chippewa filed a lawsuit to shut it down and move it off the tribe's reservation near Lake Superior to the east of Ashland.
The Penokee Hills Education Project leaped back into action in March to protest Line 5's reroute through the watershed, and in May the group erected a billboard on Highway 13.
But on Aug. 20, Koehn filed a complaint with the Ashland Police Department saying someone had torn down a replacement billboard that had been erected after the original was stolen.
The police checked with Northwoods vacuum service across the highway, and its cameras recorded that a GM crew cab truck had stopped near the sign at around 11 p.m. on Aug. 20 for a minute, although no license plates or people were visible.
The Penokee Hills Education Project plans to erect a new sign and set up trail cameras. The group is waiting for Lamar Co., which owns the frame, to replace the billboard and place lights to shine on it all night long, Koehn said.
Koehn said he did not suggest that Enbridge had anything to do with the vandalism.
Penokee Hills Education Project also has made plans to host a Communities United by Water to celebrate the protection of the environment and resources on Sept. 26 at Bayview City Park, 1803 E. Lake Shore Drive, Ashland, although with the re-emergence of COVID-19 cases the group may cancel.
But if it goes forward a ceremony begins at 10 a.m. and information tables, speakers and music will open at 11:30 a.m. A Baaga'odowe Exhibition to oppose the line begins at 1:30 p.m., and a caravan leaves for "Bury Enbridge" funeral rites at 2:30 p.m.
Environmental, tribal and advocacy organizations are welcome, but are responsible for organizing their own member's security and safe activities. Social distancing and masks will be required.
However, if Ashland County follows Bayfield County's suit and bans large gatherings, the event will be canceled. In the meantime, the group is discussing whether or not to move forward even if a ban is not instituted.
For more information visit facebook.com/noline5inthepenokees.