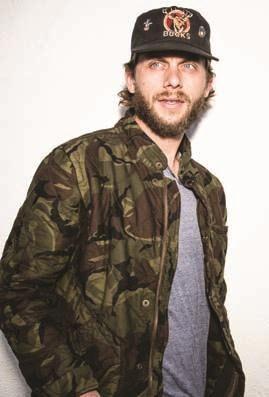 Charlie Berens was lurching along through a journalism-slash-comedy-slash-producing career when he stumbled upon something – or someone — magical.
He was doing red-carpet reporting in Los Angeles but wasn't really feeling it. So the Milwaukee native was trying standup at night when he created a character who sent him in a new direction.
"He was a Midwest guy who was a news anchor, and instead of taking advice to heart about all the things he was doing wrong, he kind of doubled down on them," Berens said. "Even if I was bombing, that character would always rescue me. And at one show, I had a good back-and-forth with a guy in the crowd who ended up being from Manitowoc. I wanted to then take that character and turn it into video content because that's the only way you can make it in standup these days."
Thus was born the first Manitowoc Minute, the video program that stars Berens as a caricature Wisconsinite, with an exaggerated accent, a deep love of fishin' and huntin' and a wardrobe comprising a lot of camo, plaid and Packers jerseys.
The Minute's success was spurred in part by such things as the Berens Midwest Voice Translator and bottle opener, a gizmo that turns Wisconsin phrases like "Geet?" into "Did you eat?" so the rest of America can understand us. "Ope, let me squeeze right past ya," can mean either "Drive your sorry ass back to Illinois" or "Excuse me, mind if I pass," depending upon how it is delivered, according to the translator.
He likewise created his Midwest Siri, also known as Sheryl Lizinski, a cellphone assistant that responds to voice commands with Wisconsin friendliness: "Oh hi, hun, how's your folks doin'? Tell 'em I say hi, huh?"
Berens is bringing those characters and more to the Big Top Chautauqua for three shows this weekend.
Before the shows, he explained to the Daily Press the source of his humor — and his discovery of the mathematical formula Catholics+beer=more Catholics.
Question: What's funny about Wisconsinites?
Answer: I think we've always had a self-deprecating sense of humor. We're a group of people who have historically never taken themselves too seriously. We can all laugh at ourselves. But oh, 100%, you can't do this without a deep love for your home state. I grew up in Wisconsin, obviously, and I left for a few years to do comedy around the country, and I've lived in a bunch of different states and there's just so much about Wisconsin to love. You just can't beat it.
Q: Where do you draw the line between the rest of Wisconsin and Up North?
A: Oh jeez, you know, Up North is more of a state of mind than anything else. Sometimes Up North is even south of where you are if you're mind's in the right place.
Q: How did the Manitowoc Minute get its start?
A: I started off in the news biz. I was a reporter and anchor and that sort of thing, but that wasn't really my passion so I switched to comedy and used my experience as a news broadcaster to influence my comedy.
A lot of times what you're trying to do (in TV news) is convey in simple terms what is happening to a large group of people, and comedy has a lot of the same premise. I did a lot of comedy news shows, where the news was the setup for your punchline. So it was really good framing for doing what I'm doing now.
Q: You were invited on TV news again to give the Wisconsin take on the Packers when they made a run in the playoffs this year. What do you think of the Aaron Rodgers situation?
A: I always get asked that and, you know, I'm just gonna basically say, obviously I'm an expert and I've done my research, and 100% for certain I have no idea what's gonna happen. He's doing his thing, and I think it will be fine. Now he's got a man bun going. If he's ever looking to get rid of any hair, that thing could make a good musky lure. He could cut that thing off and send it to Mepps and they could make a dandy lure out of it. Catch a lot of muskies.
Q: You're asked to explain Wisconsin to other folks all the time. What's the weirdest question you've been asked about us?
A: Some people mistake us with like Wyoming, the other W state. A friend said something to me: "Like you're right by Montana, right?" And I'm like, "No, no, no." So geographically where is it? And, "Is it all just farms?" You basically have to invite them to Wisconsin, offer them an unlimited supply of brandy old fashioneds, venison from the back of the garage freezer and some rhubarb. If you do that they likely never will visit. But if they do come, they'll love the place.
Q: Ok, now we're going to ask about some quintessential Wisconsin things for your quick take. First up, sheepshead.
A: Yes! In my backpack right now I have the bottom of a 30-rack of Miller Lite, that piece of cardboard that goes between the beers, and it has sheepshead scores from a fishing trip I just got back from on the Chippewa flowage. Great game. I'm a scooper. Q: Walleye? A: You gotta have em. It's the sirloin of the stream.
Q: Curds? A: Sure, you bet, squeaking fresh. Q: Wildcat? A: Down in Milwaukee we call it cannibal sandwich. My grandpa used to make those every Christmas. They're good for you. If you don't catch worms, they're good for you Q: Old Fashioneds? A: Four fingers tall on the brandy, don't muddle the rind. If you got the orange, you want to muddle just the fruit part, not the rind or it gets a little tart. Q: Bratwurst? A: Oh, brats are great. Just remember that, they can be boiled in beer before you throw 'em on the grill. Some purists won't do that, but I like 'em that way. Don't leave them unattended to go play cards. You'll burn 'em and your dad will get mad at you. Q: Ope? A: It's the perfect Midwest expression. When in doubt, ope it out. It's a great word, it really is.
Q: So for people who know you, or even don't know you, from the Minute, what should we expect from your shows at the Big Top?
A: We're going to have a great show. Adam Greuel from (the band) Horseshoes and Hand Grenades will be playing, and then there will be a lot of standup comedy and it will be a fun, fun time. Just come expecting a good time and if you bring brandy, that will make it all the better.
If You Go
• Comic Charlie Berens is doing shows Saturday, Sunday and Monday at 7:30 p.m. under the tent at the Big Top Chautauqua. Limited tickets are available for some shows at bigtop.org.