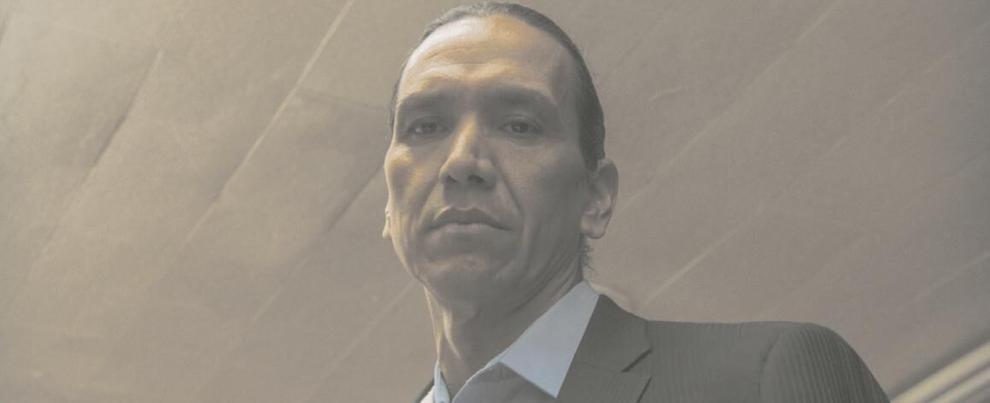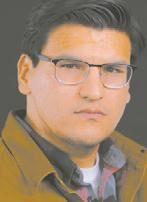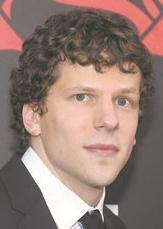 Lyle Corbine Jr. remembers clearly the day his mother brought home a copy of the Bill Murray film "Lost in Translation."
He was maybe 13 years old, and the movie connected with the Bad River native in an unexpected way.
"Bill Murray is a guy who makes a friend in Japan and it's about their friendship, them coming together in their loneliness, and the end was really sad and it kind of shook me," Corbine said.
"I really think that night changed the course of my life," he said. "I was feeling pretty alienated in my own life like they were. I was living in Onalaska and there were no other Native people around. So I was really culturally disconnected as well."
Corbine, 31, who attended elementary school in Ashland, already was a budding writer at 13. But seeing that movie set him on a new path as a screenwriter — a path that has led to this weekend.
Corbine's first feature-length film will debut Saturday to a sold-out audience at the Sundance Film Festival, where it is among 10 movies competing, chosen from thousands of submissions from across the globe.
Corbine already has received critical acclaim for two short movies he wrote, "Shinaab" and "Shinaab, Part II," but his new movie, "Wild Indian," is propelling him to new heights. "Variety" magazine named him one of 2021's 10 Directors to Watch, he recently signed a deal to direct some television commercials, and he's now pitching two scripts he's writing to major studios in Los Angeles.
Oh, and he's also developing a friendship with Sundance Institute founder Robert Redford.
But the road to his mentorship with Redford was long and bumpy. It began in Bad River, and no one knows where it will end.
'Feeling disconnected'
Though he grew up in Odanah and his parents still live there — father Lyle Sr., who goes by Mitch, is general manager of the casino, and his mother Carole Livingston, is a psychologist — Corbine bounced around Wisconsin and Minnesota as a teen and young man.
He ended up dropping out of high school in Brainerd and searching for a path.
"I found, in the four different high schools I went to, I was just feeling pretty disconnected by that point," he said. "I always knew I wanted to be an artist and felt I could do that without a formal high school diploma."
Corbine was writing prose, dabbling in screenplays, and struggling with the same thing every other writer goes through: finding his writing voice.
He got his equivalency diploma, started taking classes at a community college, and then got accepted into the University of Minnesota, where he began studying English and philosophy.
He kept writing and also was a musician, considering a probably notlucrative career as a classical guitar player, when he took a chance at a local competition.
"The first one I made was a little student film for the 48 Hour Film Project in Minneapolis. You would have 48 hours to write, film, edit and deliver a fully executed film, and then they would screen it a week later," Corbine said. "We did that every year for about five years – they were all really bad. They all look terrible now."
Pretty bad, but also pretty life-changing.
Corbine dropped out of college and dove headfirst into writing, finding the discipline to put pen to paper for eight hours a day and paying the rent working in retail, cleaning houses and taking other odd jobs.
"Those first six or seven years I made 20 or so (films)," he said. "I messed around with a lot of different styles; I tried zombie films, a knockoff of a film called "Drive," some arthouse films. It was all just a way of developing films that I really enjoyed — the really visceral raw style I was trying to develop."
Though today he strongly identifies himself as an Indigenous filmmaker, Corbine for a long time refused to delve into Native life in his work, for fear of being pigeonholed.
But there were stories of that Native experience that needed to be told, some drawn from his own life and some from lore.
His first short film accepted at Sundance was "Shinaab," — the abbreviation for Anishinaabe — a 2017 movie about a Native man in Minneapolis who is haunted by a sense that he doesn't belong.
It's a metaphor for Indigenous people's own sense of alienation in what used to be their own land — a theme that recurs in Corbine's life and work and continues in "Wild Indian."
Two years later, Corbine had a second short film, "Shinaab Part II," accepted at Sundance.
The doors finally were opening for him.
Young talent
Corbine's father, Mitch, said it was apparent even when he was in elementary school that Lyle had a gift.
"He was always pretty talented about writing and was always well spoken about his thoughts," Mitch Corbine said. "He was probably 13 or 14 when he really started taking a serious interest in the arts."
Plenty of kids dream about making it big as a musician or actor or celebrity. For all but a tiny handful, that's all it will ever be — a dream.
And life as a teen on an Indian reservation tends to crush dreams.
But if he's nothing else, Lyle Corbine is persistent, Mitch said. He remembers his son showing him his first films, some only a few minutes long, and being impressed — even if Lyle wasn't.
"He's always tough on himself," Mitch Corbine said. "And you have to put it in perspective. He was young, trying to figure out the equipment, the messages he was trying to get across. I've just learned to watch and talk about what he's producing and encourage him."
All those not-great short movies were the dues Lyle paid to get where it is today.
"As my short films got better and better, I met more and more people and ended up getting a fellowship through the Sundance Native and Indigenous Program in 2015 or '16," Lyle Corbine said. "From there I kind of started meeting the right people."
What he was producing finally was getting noticed.
'Wild Indian'
Even as those short films, the "Shinaab" movies, were starting to make waves, Lyle was working on another project.
It began in 2014, when he was living with his then-girlfriend in Berkeley, California.
"That's when I started feeling really disconnected and I was writing just really about my relationship with my cousins and how I was disconnected from my family," he said. "I kind of felt, what would it be like if one of my cousins comes to visit? Initially it was about me and my cousin trying to get along in Berkeley. I really had no expectation that the film would do anything."
Again, he persisted. He figures he wrote 20 different drafts of what became "Wild Indian," gathering suggestions from friends who read it.
Still, the screenplay wasn't going anywhere. That's when he injected a bit of darkness into the script, perhaps taken from a distant memory of his own life: What if the main character and his cousin had a hidden secret? What if they had killed another kid years ago, and hidden their crime and grown up with that guilt burning inside them?
"It ended up going into the story when it felt like the stakes of the story weren't high enough," Lyle said. "So I added that story element to make the tension even greater."
It worked. He brought the raw script to the Sundance Writer's Lab in 2017 and "started getting real notes from real wellknown screenwriters.
"It's just you and your script trying to make it work, getting it to a place where you can get it produced," he said. "A year later I went to the Sundance Directors Lab, which is a month-long process at the Sundance Resort."
There, real directors started picking the script apart and Lyle began putting it back together.
The meeting
It was at Sundance that Lyle and some actors were test-running the scene in which his main character and cousin reunite for the first time, seeing what worked and what didn't.
"We were talking it out and all of a sudden this driver walks into the house and says Robert Redford will be here in like 20 minutes. And we're all like, 'Are you serious?' And 20 second later he walks in," Lyle Corbine said. "He's just quiet and smiles and says, 'Hi, I'm Bob.' So we just pulled a chair up for him and it was like, 'OK, go, do the scene.'"
They did, and Redford offered the first of what would become several critiques of his work.
"Immediately he wasn't Robert Redford the actor, he was like Robert Redford my mentor, here to help us with the scene and to teach us," he said. "It was one of the most surreal moments of my life. You don't really know what starstruck means until you see such a recognizable face. It's like he's a friend, but he's never met you before."
The premiere
"Wild Indian" will premiere Saturday at Sundance, which is being held online this year because of the pandemic.
All 5,000 tickets already are sold, as are 70 tickets to a theater in Minneapolis where it also will debut — on the same screen where Corbine's first 48-hour film showed.
The movie stars some well-known actors — Jesse Eisenberg, nominated for an Oscar as Mark Zuckerberg in "The Social Network," and Michael Greyeyes, a Cree Indian who plays the cousin.
"Greyeyes delivers a gripping, enigmatic performance as a modern Native American man who has done terrible, unforgivable things," a Sundance summary of the movie says. "With a strong and compelling visual style that evokes both fascination and dread, 'Wild Indian' considers the cost of survival in a world as cruel as our own."
So with real actors and a real shot at the sort of prize that can launch a career, will "Wild Indian" finally put some money in Corbine's pocket?
"Probably not this one," he said with a laugh. "It's a small film and even though it has some big names, they came on because they liked me and the script. They took basically no pay to be in the film because they just wanted to help out. Everyone's first film is a small film. It's a step toward making the films I really want to make — Hollywood films and historical set pieces."
Meanwhile, he'll keep plugging away from his home in Mille Lacs, Minn., at his two current scripts, an action film and an historical movie. He just won a two-year fellowship at the Jerome Foundation, which funds experimental arts in Minnesota, and he'll soon be directing commercials, so he doesn't have to worry about putting food on the table.
And his father is confident, given his persistence, that Lyle will end up writing something special.
"Whether it's kids that are bullied or kids that are oppressed or whatever, those types of things seem to be what he's able to get feelings across about," Mitch said. "He likes to talk about why people do what they do and how they react in certain situations. He likes to learn about people. And I'm just really, really proud that all his hard work is finally being recognized."
Read more:
Odanah family says movie reopens wounds left by death of 11-year-old, Page 3A.