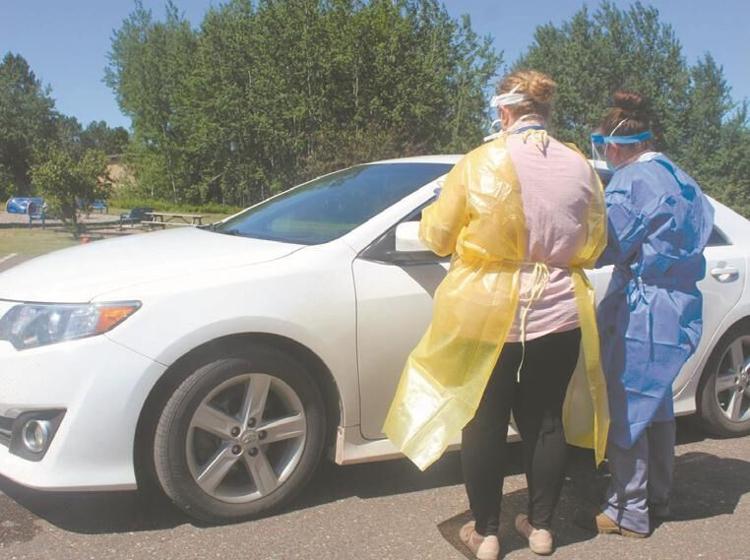 Ashland County board members likely will consider a county-wide mask mandate at their next meeting following an ambiguous Monday order by local health departments.
The health departments of Ashland and Bayfield counties issued an emergency advisory "requiring face coverings" for anyone indoors following an alarming increase in local coronavirus cases.
But local officials agreed Tuesday that the advisory is for now not an order, even as local coronavirus cases shot upward again.
The Red Cliff band on Tuesday posted a notice that an asymptomatic resident of the New Hope housing complex had tested positive for COVID-19, forcing all residents of the complex to be tested. That and other local cases recorded Tuesday pushed Bayfield County's known patients to nine, up from seven over the weekend. Ashland County remained at eight known patients.
Just two weeks earlier, the counties had a total count of five positive tests. But then summer visitors arrived and local events began with no restrictions, led by a an Ashland hockey camp that drew families from three states and that now is linked to at least five of the new cases.
The staffs at two local restaurants patronized by hockey camp participants had to be quarantined after the event (see related story on page 5A.)
The sharp increase in local cases prompted Monday's release by Bay Area health officers announcing new mask requirements.
But Ashland County Administrator Clark Schroeder told the Daily Press Tuesday that
he doesn't believe health officials now have the authority to require masks. He believes the "requirement" is really more of a guideline — for now.
Ashland County Board Chairman Dick Pufall agreed and said his board will have to consider its own mandate, given the recent surge in cases.
Bayfield County Administrator Mark AbelesAlison likewise said in an email Tuesday that the advisory issued Monday was "a serious recommendation of action by Public Health," and not a mandate.
The advisory "stipulates that everyone age 5 and older wear a face covering or mask when in any enclosed build ing where other people, except for members of the person's own household or living unit could be present. This advisory applies to all of Ashland and Bayfield County."
"Public health research shows that face coverings are critical to slowing the spread of COVID-19. Given the number of infections in our counties and surrounding area, as well as the multitude of visitors coming to our area, we need to all be wearing face coverings every time we leave the house," Elizabeth Szot, Ashland County health officer, said in the Monday release. She did not immediately return calls seeking clarification on the advisory.
The Bay Area is not alone in recording new coronavirus cases. Surrounding counties also are seeing surges following the arrival of summer visitors; Iron County as of Monday had 17 reported cases; Douglas County stood at 61, and Sawyer County recorded 15.
"We do not take this advisory lightly," Sara Wartman, Bayfield County health officer, said in the release. "It is on every person in our communities to do better. People should assume that everyone wearing a mask is doing it to protect you and themselves. If someone is not wearing a mask, assume they are genuinely not able to do so."
The order says everyone should wear a face covering over their nose and mouth when in public, which includes in businesses, health care settings, waiting in line and on public transpor tation. It also says people should wear masks while in someone else's home and exempts those with physical, mental or developmental conditions that prevent them from wearing a mask.
Szot said Monday that at least four of Ashland County's five new cases were connected to the hockey camp at the Bay Area Civic Center. She said the fifth case involves a resident who traveled away from the Bay Area and contracted the virus while out of town.
The Civic Center has not returned multiple calls from the Daily Press seeking comment on why and how the hockey event was scheduled. But as of Tuesday, it had canceled all events on its calendar, from weddings and health expos to a gun show and some meetings.
At least 13 COVID-19 cases in both adults and children have been tied to the hockey event that drew participants from Michigan, Minnesota and Wisconsin to Ashland. One person who came down with the illness was a resident of Bayfield County who became sick after attending the tournament.
Wartman urged anyone who may have attended the tournament to get tested for COVID-19 infection.
She said local health departments were being stretched to their limits for contact tracing because so many suspected coronavirus carriers had been out in public visiting busy bars, restaurants and retail stores.
Families involved in the hockey tournament are known to have been to several local restaurants and hotels, but health officials have not identified those businesses. A visitor from downstate Wisconsin who was in Port Wing over the Fourth of July weekend spent time that weekend at the Port Bar & Restaurant before returning home and being hospitalized with COVID-19, health officials said.
The local numbers come amid a nationwide explosion in positive coronavirus cases that has followed as states reopened their economies with few or no safety mandates such as required mask-wearing. Many states and some Wisconsin counties now are adopting mandatorymask ordinances.