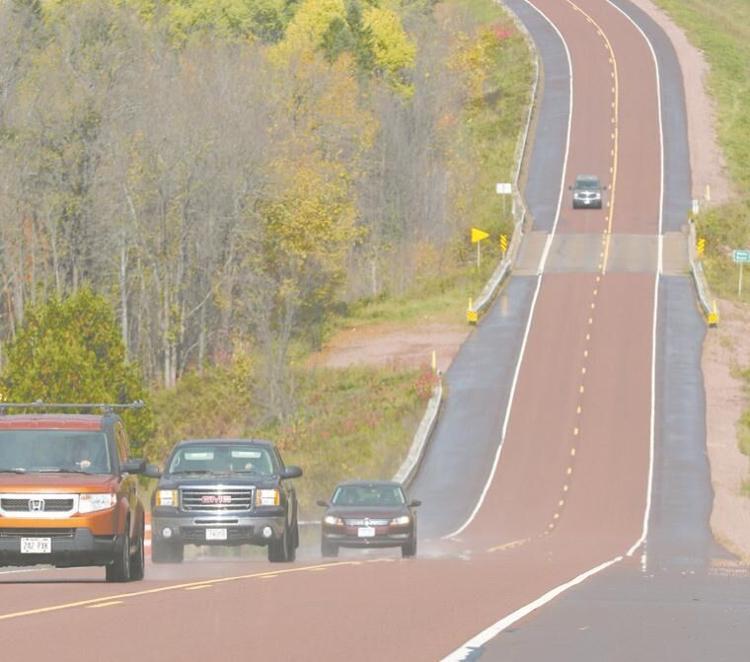 A proposed $25 registration tax on most privately owned non-commercial vehicles in Ashland County died at the county board meeting this week when no members advanced the measure for a formal vote.
Members of the county's Highway Committee earlier voted 4-1 to recommend passage to the full board, but not a single member of the committee voted to bring the measure up for debate.
Dick Pufall of Ashland, vice chairman of the highway committee, blamed a flood of constituent opposition to the plan for its death — though no members of the public spoke against it at the meeting.
"There was quite an outcry," Pufall said, recalling the more than dozen phone calls he received from angry voters.
"It wouldn't have gone through anyway," he said. "We tried that on the city council, and nobody was in favor of it. You figure that a $25 investment from most people is not that big a deal, but with the COVID thing going around and nobody
working, no money around, a lot of people who don't have a job, it's a bad time to be asking anybody for anything."
Ashland County Administrator Clark Schroeder proposed the $25 tax in an effort to raise $330,000, which would have helped cover a projected $430,000 shortfall in the county budget.
Like many rural Wisconsin counties, Ashland County is enjoying a boon in sales tax revenue — $1,102,836 thus far in 2020 up $50,182 from the same time last year. But Schroeder said that is not enough to make up for a $200,000 shortfall in timber-sale revenue and high county costs associated with fighting and tracking the pandemic.
Although the board didn't formally debate the wheel tax, the topic came up during discussion of the proposed county budget, when several board members said they had been contacted by constituents who had almost unanimously expressed their opposition.
Board member Kathy Schutte of Marengo said she received a total of 53 comments from people in her district, just three of whom supported the idea.
"When the Daily Press came out with the story about the wheel tax, our phones on the county board started ringing. Emails, phone calls, Facebook posts. The majority of the people were against the wheel tax; they said it was not the time to do a tax because of the worldwide pandemic," she said. "Ashland County is a poor county, it has affected them so much that they felt it was not right to put the tax burden back on the residents when they have already paid registration taxes. This is just another tax on top of that."
Schroeder said that without the wheel tax income, the county would have to draw on its savings of about $1.5 million. He also said he proposed the tax as a one-year revenue source, but several board members including Schutte were dubious.
"People were also concerned that the tax would not be here for just one year, but would end up being here forever," she said.
Unlike Schutte, George Mika of Marengo would have voted in favor of the tax, which he considers a fair way to cover the county's budget shortfall. But he never got that chance because members of committee that recommended the fee never brought it to the floor for discussion, as required by board rules.
"They are the ones who brought it forth, they should have been making that motion. Why they didn't, I have no clue," he said. "I would have voted for it if they had brought it up. I think that was a pretty cheap way of making a few bucks. The highway committee endorsed it four to one, and the finance committee knew about it, and why they didn't bring it to the floor is beyond me."
Pufall said he didn't suggest debate on the fee because he believes the $500,000 the county has received from Enbridge Energy Co., a payment made as part of negotiations for Line 5's reroute, should help cover the county's red ink.
"I suggested they use that money a long time ago," Pufall said. "I mean, we got that money for nothing, why the hell not use it? If you are saving it for an emergency, I don't think there is going to be a bigger emergency than we have right now."
With the rejection of the wheel tax, Schroeder said the county will consider other new sources of money including a premier resort tax, which would allow the county to impose a 0.5% sales tax to raise county revenues.
Schroeder said for the immediate future, the county would borrow $1 million to fund highway projects and take about $250,000 from savings to fund general operations.
"It's not sustainable," he said.