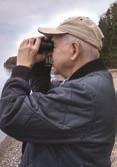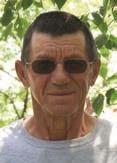 Wisconsin Department of Natural Resources Conservation Biologist Ryan Brady of Washburn is a dedicated birder who has over 300 species on his life list.
The pastime reflects his passion for birds. When he's not working out of the Ashland DNR office for the Bureau of Natural Heritage Conservation, he is often out and about with his binoculars and spotting scope, checking likely spots for interesting species.
That's what he was doing over the Memorial Day holiday, checking out the Bayfield Peninsula with fellow birders Tim Oksuita of Moquah and Betsy Bartelt of Bayfield and Appleton. The three were peering over the shores and waters at a beach near Herbster in northern Bayfield County when Bartelt saw it first; a single bird, paddling a bit over a quarter of a mile out in the nearly calm waters of Lake Superior. Brady and Oksuita immediately focused their lenses on the bird. It was clearly a loon, but it didn't look like the usual common loon found in Wisconsin.
When Brady first got a good look at it, he became excited.
"I said 'Wow, there is a Pacific loon in full breeding colors,' I wasn't even thinking of an Arctic loon; they are super rare," he said.
Although the sighting of a Pacific Loon would have been a very good birding coup indeed, the more Brady looked at it, the more uncertain he became.
"I looked at Betsy, and she said something like, 'What, you're not so sure of yourself?'" he said.
What caught Brady's attention were the bird's patches of white on its flanks, clearly visible when it dove under water to forage for food. Those patches are a key for identification of an Arctic loon.
"But it can't be one of those," he told his companions.
In fact an Arctic loon has never before been confirmed in Wisconsin. If the sighting could be verified, it would be historic — a life list addition beyond any of their dreams.
Arctic Loons are most common in the Atlantic portions of northern Europe, from Portugal to Finland and from Scotland to the Black Sea in Turkey. A smaller population is found in Alaska and Siberia, with a few sightings down the Pacific coast as far as California. There have been a couple of sightings of birds in Colorado, Ohio and in upstate New York, but never anywhere near Wisconsin.
But the more the trio looked looked, the more they thought it had to be an Arctic loon.
"We were pretty sure that's what it was," Oksuita said — though Brady was more conservative.
"I'd never seen one of those birds, or had any experience with them, so I was wasn't super comfortable declaring such a huge find without more evidence," he said.
The debate went on for over an hour as the three examined the bird through their optics.
"What I really wanted was someone who had seen an Arctic loon before," Brady said.
He got out his cell phone and began calling friends in the regional birding community to let them know about their sighting. Then the phone calls paid off.
"It happened that there was this guy Ian Davies in Duluth, and he's not even a resident of Duluth; he just happened to be there," Brady said.
Davies, of New York, is a world-traveling birder, director of the eBird Project at the Cornell Lab of Ornithology and someone who has seen Arctic loons in Alaska, Finland and Norway.
When Davies heard of the sighting, he immediately drove to Herbster to see for himself.
"When he came in he said 'Oh yeah, that's an Arctic loon,'" Brady said.
"That was pretty much the highlight of my birding career," Oksuita said. "It's a once-in-a-lifetime sighting, I'm pretty sure."
Fellow birdwatcher David Bratley of Washburn agreed. He said he has been birdwatching most of his life, often with Brady, and never expected to see an Arctic loon.
"To see that here, an Arctic bird, is just unbelievable," he said.
Bratley missed the original sighting because he was out of town, and the following day was disappointed not to see the bird. But the day after, Brady called him saying the loon was back at the original spot.
"That in itself was unbelievable, and I was out there in a heartbeat. I saw it, and it was fantastic," Bratley said.
The confirmation by Davies took the pressure off of Brady, who feared that birders would descend on the spot to share in the unique sighting, only to have it turn out not to be an Arctic loon.
"When Ian came, that clinched it for me," he said. "He had the sort of experience you can't get from a field guide."
Once the word went out there was a confirmed sighting of an Arctic loon, birders from surrounding states and even as far away as New York came to see it, Brady said.
Exactly what the presence of a single Arctic loon on the south shore of Lake Superior means is a mystery, Brady said. He said it could be something as simple as a bird going astray in a storm. But he warned against asserting it is a sign of anything greater such as global warming.
"You can't get that from one bird. When one bird shows up out of whack, it could be anything," he said. "If we start getting piles of Arctic loons coming over the years, maybe there is something going on. But until that happens, it's just conjecture. I think we've got one bird that is very lost."
Whatever the reason for its visit, the loon hung around for several days, allowing birders an opportunity to share in the unique event
Brady said he suspects he'll never see one again – at least in these parts.
"This will probably be the rarest bird I will find in my life," he said. "I've been watching birds around here for a long time; this one takes the cake."