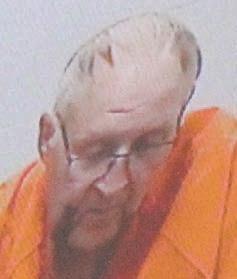 A town of Bayfield man who had a years-long feud with his neighbor shot the neighbor May 8 after at least two confrontations that day, one involving police.
Randy Erickson, 62, was formally charged in Bayfield County Court Tuesday with first-degree intentional homicide. If convicted he faces a mandatory sentence of life in prison.
Erickson, owner of Bayfield's C&W Trucking, is accused of killing neighbor Michael Kinney after "a long history of tension and frustration between (Kinney), C&W Trucking employees, Randy Erickson and Randy Erickson's wife," according to court records.
That tension caused Erickson twice to file for restraining orders against Kinney, one of which remained in effect on the morning of May 8 when the Erickson family and Kinney had their first run-in of the day.
The feud between the two centered on C&W's trucks passing Kinney's home and Erickson having on more than one occasion intentionally parking his trucks to block Kinney's driveway so Kinney couldn't get home.
According to court records: Erickson on the morning of May 8 told police that Kinney had earlier that day jumped in front of a dump truck being driven by one of Erickson's employees.
It was a familiar complaint; Erickson had reported similar behavior in the past, including when he testified in 2018 while requesting the restraining order against Kinney.
Kinney "just keeps doing this s...," Erickson told police that morning, saying that he was "fed up with it." He also said he feared Kinney, who was in a nearby car as police interviewed Erickson, would eventually harm or kill one of his employees. Kinney then rolled down his window and called Erickson a liar.
"If he'd of got out of the car he'd be dead right now," Erickson told the officer interviewing him. "I would have pounded him right here."
Kinney that morning denied jumping in front of the dump truck and told an officer that Erickson's wife, Sue, had thrown a rock at him and hit his vehicle, which Erickson's wife later confirmed,
saying she was "beyond frustrated" with Kinney's behavior.
"I believe he needs help mentally, but in the meantime he is driving us crazy," she told an officer.
Court records don't spell out how that morning's confrontation was resolved. They next refer to Sue Erickson, who had been drinking, going to Kinney's home between 8:30 and 9 p.m. to talk to him. At some point during that discussion, Sue Erickson said, Kinney kicked her and knocked her to the ground, leaving her with cuts and bruises.
When Sue Erickson returned home, Randy Erickson learned of the incident and said, "I can't take this no more." He and his daughter then got in his truck to drive to Kinney's home, and the daughter phoned 911 as they were driving and told dispatchers to send police "because my dad is going to f...... kill him," records said.
Dispatchers then could hear a confrontation in the background, with Erickson yelling "put the f...... bat away" and Erickson's daughter warning him to back away and not do anything.
At 10:06 p.m., she told dispatchers, "hurry now I need an ambulance...my dad shot him."
When police arrived, they found Kinney, with a shovel nearby but not within reach, dead in his driveway. He had been shot three times, in his armpit, leg and chest, and also had a broken nose and other blunt-force injuries.
The chest wound, in which a gun was held directly to Kinney's skin, was close-contact, "meaning Randy Erickson would have held the gun directly to the side of the chest of the victim and then fired," records said.
Erickson later admitted to police that he had confronted Kinney and challenged him to fight. When Kinney approached him armed with a shovel, Erickson said, he pulled his pistol and fired it in the air. He told Kinney that if he continued to approach, he would shoot him and Kinney said, "Oh, I'm not afraid of you" and hit Erickson with the shovel.
Erickson then shot Kinney and both men fell to the ground and continued fighting.
"Randy Erickson had (Kinney) in a headlock and was punching (Kinney.) Randy Erickson felt for the stomach of the victim and shot him in the stomach or side. After that shot, the victim went lifeless."
Erickson's daughter later told police that she had had five drinks earlier in the night and that she tried to "get between" her father and Kinney to prevent the confrontation but was unable.
Erickson was arrested at the scene, where police found seven 9mm shell casings and found that Erickson had broken fingers and bruises on his face.
Since being jailed, Erickson has said on jail phone calls, "No one's going to hurt my kids and my wife, no one," records said. "I'm not going to put up with anyone who beats my wife, that's all...Your mom came home beat up and I just couldn't stand that...I wouldn't change it, not after beating my wife. That pushed my button."
Erickson is free on a $500,000 cash bond. His next court appearance is scheduled for June 9.