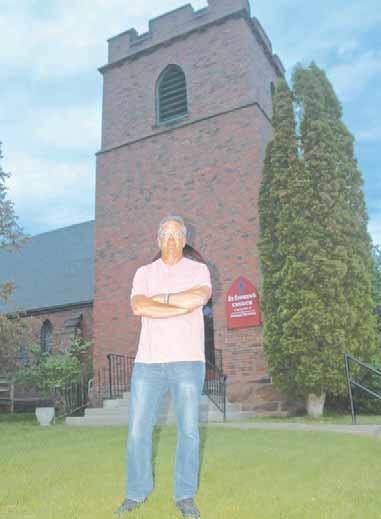 Emergency room physician Geoff Gorres was tired of living out of a suitcase.
With a job that requires him to move around from one community to another and after about a year of being based in Ashland, he decided it was the community he wanted to call home.
"I've been working here long enough to know that it was a good place to work — good people — and I was kind of tiring of putting all my stuff in the back of a car and hauling it into the hotel or wherever," he said.
Gorres started looking around to find a more permanent place to live, but nothing in the Ashland area suited his quirky taste.
"There are houses everywhere for sale, but I was looking for something a bit different," he said. "Maybe a warehouse or airplane hanger."
What he found was something very out of the ordinary — a church for sale at a very reasonable price.
The former Saint Andrew's Episcopal Church building at the corner of Third Street and Chapple Avenue had been standing vacant since last year, when a shrinking congregation and rising costs forced church members to seek a more affordable place to worship in Bayfield.
Gorres saw the real estate listing for the church and was intrigued. He and his friend Dr. John White, head of the
Memorial Medical Center emergency department, went over to take a look.
"We were both struck by the beauty of the building and scratched our heads and talked about it," Gorres said. "When we walked through it, one of the things that was quite evident was just that the majesty of the construction, the timber framing and brick is so striking."
And then there was the price: $125,000, or about the cost of a nice house in a good neighborhood.
It didn't take long for the two men to decide there was a future for the elegant structure. But one does not go out and willy-nilly buy a church.
One of the purposes for purchasing the structure was to find a home Gorres could use in Ashland. The church's basement spaces provided some easily convertible space for a dormitory-style apartments with a common area and cooking facilities, while the upstairs could be used for events such as weddings, receptions, graduations, business meetings and comedy or music shows.
"The sky is the limit. It's really what people can imagine doing is what we want to provide. I don't think Ashland really has anything like that," White said.
The two decided to become partners in the project, purchased the structure and set about doing some renovation work, landscaping and remodeling, which was taking place this week.
One of the first things Gorres and White undertook was in the church's social hall, which Gorres called "The Guild Hall" in recognition of the medieval feel of the space. He said it was apparent that the area had been remodeled years ago, with the aim of lowering the cost of heating the space. That was done with a drop ceiling, which hid the original and beautiful timber-framed, vaulted ceiling.
"It was kind of clear to John and I that if we were able to restore it back to its original state, it would be a very impressive space," he said.
The church has a storied past. Designed by John Sutcliffe, a 19th century architect famed for his work for the Episcopal Church, the structure was completed in 1900 and replaced a church built in 1880 and which subsequently burned.
The two recognize their responsibilities to more than a century of parishioners who were members of St. Andrew's church and made it a part of the historical fabric of Ashland.
"They put a lot of years, decades into this church, so we don't want to change anything on the outside, and as little as possible on the inside to respect that history," said White
Some changes will be needed in order to transform it into an event venue. One is the construction of handicapped-accessible restrooms and a new handicapped entry into the guild hall from the parking lot, which will allow the demolition of an decrepit wooden handicapped ramp in the front. That change will make access to the hall easier for those with disabilities and restore the front to its historic look.
"We are also hoping to build a large deck out back," White said.
Despite the work needed to make the building over for a new purpose, Gorres said the building is remarkably sound.
"Obviously it was well cared for," he said.
The operation will be ready to go later this summer.
"We've already had one event here, about three weeks ago" White said. "We had a couple of colleagues from the hospital who retired," said White. "We told them it wasn't done yet, but they wanted to have it here. We had about 80 people here and it was well received."