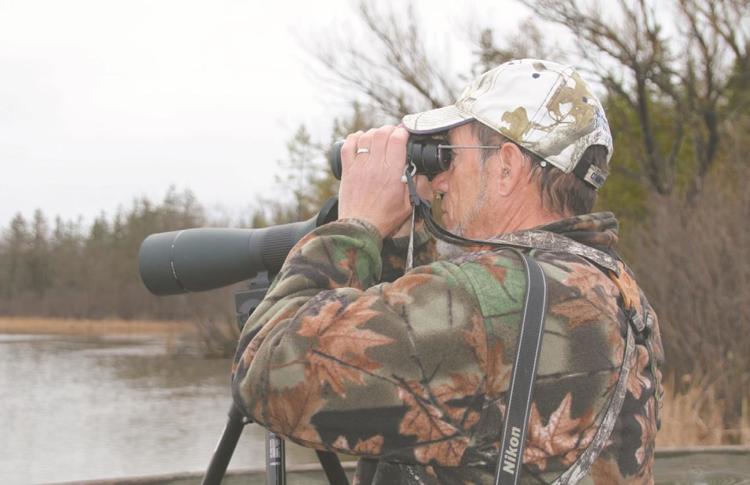 For an all-too-brief halfhour, a tropical kingbird, rarely spotted north of Texas, sat in yellow-bellied splendor near Washburn, delighting birders on a Chequemegon Bay Birding & Nature Festival field trip.
The tropical kingbird's appearance in 2016 has been the "No. 1 festival find" during the fest's 13-year run, said Nick Anich, who coordinates the Wisconsin Breeding Bird Atlas for the state Department of Natural Resources and hosts festival field trips.
The thrill of sighting beautiful birds from a cross section of species draws more than 400 people annually to the three-day festival and inspires a year-round, lifetime passion in many residents of Chequamegon Bay communities.
Anich and cohorts Tim Oksiuta, Neil Howk and Ryan Brady are among avid local birders who keep their eyes on the skies and in tree branches. Drawing on their avian expertise and where visiting birds typically perch, the professional and amateur birders lend their skills as fest field trip guides and presenters.
Diverse habitat
The Chequamegon Bay area is a mecca for birders and the reason lies in the bay
waters, forests, grasslands, agriculture fields and the barrens. The rich variety of habitat provides a haven for more than 250 species that call the area home or deem it a cozy wayside en route to northern or southern climes.
Many people can't help but be fascinated by the assortment of bird life flying through the area at different times of the year, Anich said. With divergent habitats within a short driving distance of each other, all anyone has to do to spot an entirely different type of bird is trot down the road.
But that's not to say timing isn't everything. The festival is the prime time for birders intent on logging as many different species as possible. The organizers scheduled it to coincide with the spring migration, when birds fly to their summer homes and leaves are still buds on trees, posing no threat to obscure watchers' views.
Howk, the president of Chequamegon Audubon, will lead five trips this year, including one to Les Voigt State Fish Hatchery and another to Raspberry Island, both of which offer excellent bird-watching opportunities, he said. Although fest field trips cover a great deal of ground, they just "scratch the surface" for what the Ashland area has to offer birders, he said.
Rare sightings
On average 180 different species are spotted during the festival, and sometimes an exceptional discovery shoots a thrill through festgoers — if they're lucky.
Luck smiled on but a few birders in 2016 when a tropical kingbird landed within their sight on a field trip, and the meeting between bird-watchers and bird is now legend.
Anich was leading the trip near Washburn when birders spotted what they believed to be the feathered visitor from the far south. But some kingbirds look similar enough to each other that Brady, a DNR conservation biologist, was called in to help make a positive identification. It wasn't easy.
"We had to work it for awhile," he said.
The tropical kingbird is so named for a reason — it typically lives on the coasts of Central America and Mexico, and its breeding range barely makes it over the U.S. border into Arizona. How it wandered so far north is anyone's guess.
The birders shot some nice photos of the out-of-place flier, but they were the only festgoers to see the bird in person as it remained in view for only 30 minutes. It was the first confirmed sighting of a tropical kingbird in Wisconsin, Brady said.
Trip leaders also cited a Lewis's woodpecker in 2017 as a highlight because it was only the fifth confirmed sighting of the bird in the state. This western-states woodpecker was a more gracious guest than the tropical kingbird. It stayed in one place for the duration of the festival for birders to observe.
Its appearance was almost as perplexing as the kingbird's. Lewis's woodpeckers rarely stray from the open pine woodlands of the West.
The thrill of seeing "wayward" birds passing through makes the festival that much more exciting, Brady said, although many people are simply happy to see common yet beautifully colored local birds.
Lifetime hobby
Birding is an easy and inexpensive hobby to take up at any time of life.
Brady drew Oksiuta into the birding way of life when they joined forces to count hawks at Northern Great Lakes Visitor Center in spring 1999. When Brady left the area to continue his education, Oksiuta stepped up to bat to record the spring rapture migration.
Oksiuta advised prospective birders first to gear up with binoculars and a good bird book. A spotting scope is a nice addition, while a camera comes in handy to take photos for memory albums or to get help from others to ID birds.
He also cited websites as invaluable tools. If all other measures to ID a bird fail, online birders will be glad to weigh in. He posts on eBird.com to log his sightings and share them with other birders or scientists.
Howk recommended people who are new to birding or simply the area to check out the fest and take some field trips.
"You're going out with some of the best birders in the area," he said.
Economic impact
A former visitor center director first conceived of bringing birders to witness the spring migration in Ashland, Brady said.
After being asked his opinion, Brady thought, "This could work," and helped launch the festival.
The Ashland Area Chamber of Commerce was one of the first organizations brought on board, as organizers thought it would be interested in helping start a festival that could draw tourists to the area during the shoulder season.
The fest proved popular, although the chamber has not estimated how much it contributes to the area's economy.
The event has changed little over the years, Brady said, and a large part of its success lies in the huge number of quality field trip leaders credited for their enthusiasm and knowledge of the area.
Mary McPhetridge, the chamber's executive director, said she has learned much about birding from being involved in the festival's organization.
She said people love to kayak and hike in the area, both of which can easily be combined with birding, and guides frequently take festgoers off the beaten path to see habitat and birds they might otherwise miss.
The chamber handles registration for the event. Although the fest has same-day registration, trips may be filled by the time the event rolls around on May 16. But being able to find an available trip among the 120 offered is one of the beauties of the festival, McPhetridge said.
Whether traipsing through forests or wading through marshes — or hanging around the visitor center where guides will net birds so festgoers can get up close and personal with their feathered friends — birders will spend three days flying in heaven.
If You Go
What: Chequamegon Bay Birding & Nature Festival.
Where: Northern Great Lakes Visitor Center.
When: May 16-18.
To Register: Call 715-682-2500, or visit birdandnaturefest.com to register online (single registrations only).
For More Information: birdandnaturefest.com.