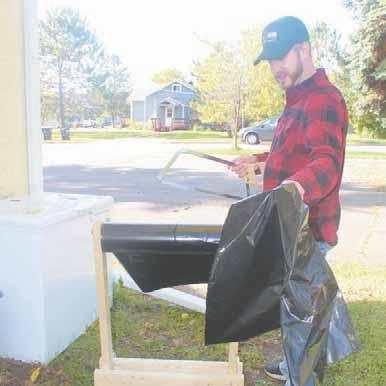 With the crossbow and archery deer hunting season well underway and the nine-day gun season rapidly approaching, the state Department of Natural Resources and Northwoods counties are kicking the battle against the spread of chronic wasting disease into high gear.
The state began tracking CWD 20 years ago. The first wild deer to test positive for it were found in 2002, according to the DNR. Since then, the disease that kills deer and can quickly decimate a herd has spread to 56 of Wisconsin's 72 counties.
So far, Bayfield, Ashland and Iron counties' cervid populations have been spared the presence of this slow but steady killer, and hunters dearly hope it remains that way.
DNR regional campaign
To make sure that CWD isn't spreading northward, the DNR has launched a region-wide campaign — the first in the Northwoods since 2007 — to encourage hunters to drop off deer heads at sampling stations so the agency can test for the disease.
The DNR's goal is to examine at least 300 deer in each county in the northern part of Wisconsin, including Bayfield, Ashland and Iron counties, DNR wildlife biologist Todd Naas said. With this extensive sampling, the agency stands a 95% chance of detecting CWD if it's within 1% of the herd.
Naas encouraged hunters to place their deer's head plus three to five inches of neck in testing kiosks located
throughout Northwoods counties. Ashland and Bayfield counties have four DNR kiosks each, including in Ashland, Washburn and Iron River, and Iron County has five sites.
In the unfortunate event CWD is found, the DNR will take immediate action, Naas said — although the agency is still working on the specifics of a response plan — as deer are important to the environment and hunts are financially lucrative for the state and local communities.
Bayfield County
Meanwhile, Bayfield County is taking additional measures that its Communicable Disease in Cervids Study Committee recommended in June to try to prevent CWD from entering its borders.
"No one wants it up here," said Ben Dufford, Bayfield County conservationist.
The county hired Northland College senior Matt Bolen on a part-time basis to lead the county's CWD information campaign. He recently began meeting with hunting clubs and other organizations to educate the public about the dangers of CWD and the importance of testing and proper disposal of carcasses.
About a week before the gun deer season begins, the county will place dumpsters for carcass disposal at DNR testing kiosk sites, Dufford said. If a carcass has CWD, there's less likely a chance that it will infect another deer if it's not left lying around the forest.
More testing sites
But the DNR isn't the only game in town when it comes to testing for CWD. The Red Cliff Band of Lake Superior Chippewa Indians and Great Lakes Indian Fish and Wildlife Commission, which helps 11 Ojibwe tribes manage natural resources and enforce conservation efforts, also offered to test deer.
Red Cliff Wildlife and Forestry Department will test for CWD free of charge. The Red Cliff fish hatchery will accept the entire deer, or just the head with about five inches of neck attached, between 8 a.m. and 4:30 p.m. Monday through Friday. Call 715-779-3795 before stopping by.
The Fish and Wildlife Commission is accepting deer in Odanah on the Bad River Indian Reservation. For more information call 715-682-6619
The DNR is not charging to test for CWD and will provide individual hunters with the results of the examination within two to three weeks. For more information about DNR efforts to monitor the spread of CWD and a list of testing kiosk locations by county, visit dnr.wi.gov/topic/wildlifehabitat/cwd.html.
CWD testing kiosks
(All are open for gun, and archery and crossbow deer seasons.)
Ashland County
DNR Service Center, 2501 Golf Course Road, Ashland.
Northland Foods, 108 S. Main St., Mellen.
Heritage Meats, 109 S. Main St., Butternut.
Clam Lake Junction, 60967 Highway 77, Clam Lake.
Bayfield County
DNR Ranger Station, 203 E. Bayfield St., Washburn.
Timber Ghost Taxidermy, 8470 Highway 2, Iron River. P.J.'s Cabin Store, 1040 Lake Road, Barnes.
Grandview General Store, 22195 Highway 63, Grand View.