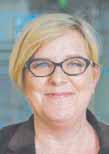 The burglar came right through the dining room window of Betty LaPean's Ashland home as if it weren't there.
"I was out of town, and he flipped the screen off and crawled right in," she said. "He went through my whole house. It gives you a horrible, horrible feeling."
Although the amount of money the burglar took was relatively small, about $55, what he really robbed LaPean of was her sense of personal safety and security.
The crime happened in 2017, but it is as fresh in her mind — and her fears — as if it happened yesterday.
"To think — someone came in my house and invaded my privacy," she said. "He sat on my bed, went through all my dresser drawers, went through my bathroom. Looking for money, I guess. It just makes your hair stand up on end."
LaPean's sense of outrage is shared by just about anyone who has been targeted by a criminal. And the odds of being the target, whether of a property crime like burglary or a violent crime such as armed robbery or assault, are higher in Ashland than just about anywhere else in the state, according to two recent analyses of Wisconsin crime statistics.
The websites SafeWise and RoadSnacks both used FBI Uniform Crime Reporting statistics for 2017, the most recent year available, to determine that there's almost nowhere more dangerous to live in Wisconsin.
SafeWise reported that Ashland was the 159th-safest of 163 cities in the state, while RoadSnacks found Ashland to be the most dangerous city in Wisconsin — less safe than Milwaukee or Madison, Green Bay or Racine.
Crunching the numbers
SafeWise used only violent crime statistics to come up with its listings, while Road-Snacks used both violent and property crime figures to calculate its determinations.
SafeWise Senior Safety and Security Writer Rebecca Edwards, who authored her company 's study, said it was limited and was never intended to be a definitive analysis of safety in the state, and that a city's position on the list is a relative calculation.
"Wisconsin has a much lower crime rate than the national average," she said.
Ashland's violent crime rate of 4.30 per 1,000 residents is just eight-tenths of a point higher than the state average of 4.22, and is still below the national average of 4.49 per 1,000.
"There are just a lot of other places that are lower, but Ashland is still doing very well," Edwards said.
Communities such as Grand Rapids and Colby-Abbotsford, on the other hand, reported essentially no violent crime at all, pushing them to the top of the safest-city list. At the bottom of SafeWise list, unsurprisingly, was Milwaukee with a violent crime rate of 15.97 per thousand.
Edwards said that Ashland's low population of about 8,000 means that even small numbers of crimes can have an outsized impact on the FBI statistics.
"You've got Madison, with a population of 255,000. They have 958 violent crimes and they still ranked slightly above Ashland," she said.
RoadSnacks deemed Ashland the most-dangerous city in the state because it includes property crimes such as vandalism, theft and burglary in its statistics. At 45.36 per 1,000 residents, Ashland's property crime rate is more than twice that of Green Bay, and more than seven points higher than Milwaukee.
But whatever metrics they use, the rankings are more than just numbers to victims like Henry Holton, who lives of part of the year in Georgia and part of the year in Ashland.
He will never regard Ashland as safe after his son, Marcus Holton, was beaten and stabbed to death a year ago.
"I used to work construction in Libya between Tripoli and Benghazi, and I felt safer walking down the streets in Benghazi than I would in Ashland," he said.
Holton said he blamed northern Wisconsin's drug epidemic for the drastic changes he has witnessed in Ashland.
"If you have a good family structure and do away with the drugs, there is no reason that young people can't plan for the future. It's sad. A parent shouldn't outlive his children, and I've lost two sons. Mark was at the wrong place at the wrong time."
Marcus Holton, 52, of Odanah was killed by Matthew Samuel Phillips, 42, of Barnes who believed Marcus Holton had inappropriately touched the leg of the daughter of Phillips' girlfriend. Phillips is now serving a 20-year prison term for first-degree reckless homicide.
Holton admitted that his son's death has colored his thinking about Ashland, and that he has no easy answers to the city's dire rankings. But he is certain of one thing.
"You never get over the grief," he said.
More than statistics
Ashland Police Chief Jim Gregoire said FBI statistics don't tell the entire story of safety in the city. Gregoire said violent crime totals, including murder or manslaughter, rape, robbery and aggravated assault, totaled 31 in 2018, down three from the previous year in Ashland. At the same time, property crimes actually fell in 2018, to 258 from 360 the previous year.
Yet instead of being considered less dangerous, Ashland actually was considered more dangerous in both rankings, year over year.
In addition, Gregoire said people should consider a statistic that was not included in either ranking — clearance rates, or cases in which a culprit is identified and caught.
"If you look at our clearance rates, for robbery, it's 50 percent. The national average is 13 percent. We are clearing three times more than the national average, which means that we are catching the bad guys," he said. "We also cleared 100 percent of the aggravated assaults and 100 percent of the simple assaults."
In 2017, 106 burglaries were reported to Ashland police, many attributed to a single crook, and police cleared 24 percent of those break-ins, said Gregoire. In 2018, that number fell to 23 burglaries, he said.
During the last several years, Ashland's clearance rate for theft was twice the national average. In addition, the department cleared 80 percent of reported auto thefts, compared to the 13 percent national average.
"In many cases we are many times higher than the national average," he said.
Gregoire said he believed APD officers are successful at clearing crimes because officers know the community and the people who live in Ashland.
"They are invested in in this community and are dedicated to creating a safe environment to raise your and their children," he said.
Those clearance rates, though, don't affect the safety rankings. To do that, Gregoire's officers would have to prevent crime in the first place — a task the chief deemed troubling.
"It is difficult to change human behavior," he said. "We at the department try to focus on solving crimes and trying to get justice for the victims of crimes," he said.
That justice is difficult for Matthew Hyopponen, owner of Hyopponen Family Chiropractic in Ashland, to find. He, too, was a victim of a burglar who took about $3,000 from his business. He said the break-in itself was more difficult to deal with than the business loss.
"You can always make more money. That's not the end of the world, obviously. But it's just knowing that someone is in your stuff, going through your stuff, your personal stuff," he said.
Hyopponen said that among the items stolen from his business was a computer loaded with personal photos that he can never get back.
"He couldn't get into it so he got rid of all that personal stuff," he said of the burglar, who was among those captured by police. "With some of the things he took, it was more sentimental than their dollar value."
Hyopponen said he is gratified that the burglar was captured, but the crime has left him traumatized to the point that he spent several hundred dollars beefing up security at his business to make it safer.
"It's like someone breaking into your bedroom and going through your stuff," he said. "I guess you can call it a learning experience."
Sense of security
Ashland County District Attorney David Meany is responsible for prosecuting Ashland's criminals and, in the process, hopefully deterring future crime.
While he considers no level of crime acceptable in any community, he also pointed out that Ashland's violent crime rate is close to the state average.
Meany said there's no question that Ashland's drug-abuse problems are driving the city's property crime rates higher.
"I think in many cases those types of cases go hand-in-hand," he said.
Whatever the numbers appear to indicate, Meany disagreed that Ashland is the most-dangerous place to live in Wisconsin — or even close to it.
"If you are trying to come up with some measurement of how safe your citizens feel, I can just say that in my own experience, I don't see Ashland at the bottom of a list of Wisconsin cities. If you are looking at general feeling of safety among the population, I've had experience in a number of the cities on the list that are up at the top as the safest cities in Wisconsin, and frankly, in terms of the feel of those places, and how the citizens lead their lives, I don't really see a difference."
Hyopponen, whose business was broken into, agrees with that logic.
"Break-ins happen everywhere," he said. "Being a bit more economically depressed area, I can see why it happens here. I come from a small town in Minnesota and it happens there, too. I am a pretty positive-outlook guy. I guess I will just keep my fingers crossed and hope that it doesn't happen again."
The experience of being burglarized also has not soured LaPean on Ashland.
"I built a home there on Lake Shore Drive, not far from Walmart, and I love it; it's so peaceful and quiet," she said. "If I am baking something at night and I don't have any brown sugar, I think nothing of jumping in my car and going to Walmart at 8:00 or 9:00 in the evening. That is something I would never have done in Racine, where I came from. But here if it's summer and still light, I will walk over there. I have to say, I am still pretty much satisfied with living in Ashland."
About the studies
RoadSnacks, also known as HomeSnacks, bills itself as an "infotainment" website aimed at using crime statistics, Census data and other sources to help users understand what life is like in communities across the country.
In addition to safety ratings, it judges cities on how expensive they are to live in, what neighborhoods are best and overall quality of life, all intended to help people choose where they want to live.
SafeWise bills itself as a website committed to safety of all sorts. In addition to its rankings, SafeWise's website offers parents tips on keeping kids safe, ratings on auto safety equipment and connections to companies that sell home-security systems.