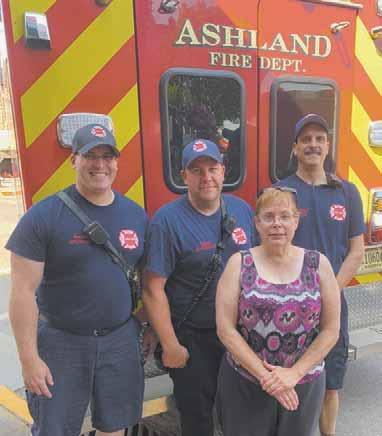 Jennifer Ottman thought it was just a mild case of heartburn.
The 47-year-old Ashland mom of two had been suffering from a vague feeling of distress for the past week in early June, but this night, as she prepared for bed, something was different.
Within 15 minutes was out of bed, sweating profusely.
This was no heartburn. She called 911.
Within minutes an Ashland Fire Department ambulance was on its way, manned by Lt. Matt Spangler, Firefighter Ryan Edinger and Firefighter David Rekemeyer.
When they arrived, Ottman was in a lot of trouble.
"She was seated at the kitchen table and was having chest pains, some shortness of breath," Spangler recalled.
The team took her vital signs and hooked up an electrocardiogram to measure her heart activity.
"It indicated to us that she was having a heart attack," said Rekemeyer.
That EKG set in course a series of events that would see Ottman flown to Duluth for emergency heart surgery, followed by a remarkable recovery and — on Tuesday — a trip back to the Ashland Fire Department to thank the men who saved her life.
Fast action
The ambulance team knew time was of the essence that June 9 night. In emergency medicine, the first hour after a traumatic event is called the "golden hour," when the odds of recovery are best.
Knowing this, the crew immediately called for a helicopter ambulance from Duluth, cutting the time it would take to get to expert care.
During the trip to Memorial Medical Center, Ottman spiraled downhill, her heart failing fast.
"I've seen it go from borderline to progressing, but never in such a short timeframe," Rekemeyer said.
In the crunch, years of training and drilling took over. The ambulance team had been through this before.
Their patient, though, had not. She was bewildered, frightened and in pain.
"I do remember a great deal of what happened and those who helped me make it through it," Ottman said. "I remember the ambulance ride, the ER nurses and the doctors on call that night."
At MMC, Othman's heart stopped two times, and she was saved two times by emergency room staff. She doesn't recall waking up after her heart stopped beating for the first time.
"I remember asking the nurse if I was dreaming, it was so black and so quiet," she said.
She remembered the helicopter crew telling her family they would be "burning jet fuel" to get her to Duluth and the cardiac surgeon who was waiting for her.
The road back
In Duluth, doctors performed emergency surgery to install a stent — a small woven-metal tube — to hold her blocked cardiac artery open.
Over the next few days, Ottman's heart rhythm became more stable, and eventually she was able to come home. It turned out that the EKG readings done by paramedics when they first arrived at her home showed that she had what is known as a QT prolongation, a disorder that can cause an erratic and irregular heartbeat. Unless treated quickly, it can be fatal.
While recovering, Ottman set herself an astonishing goal: By the time she made it to the four-month anniversary of her heart attack, she would be walking four miles a day.
On Oct. 6, she completed her goal, four months to the day after her heart attack; she completed that four-mile walk.
Ottman is well aware of how lucky she is not to have left husband Mark and her two kids behind.
"I really didn't think I was going to make it. But everything happened in such a way that if it hadn't gone that way, I wouldn't be here," she said.
Ottman, an insurance agent by trade, credited those who rallied to her when she needed it most with saving her.
"Too often we tend to overlook what heroes we have in our own community," she said.
On Tuesday, Ottman was among a crowd of Ashland residents at the Ashland Fire Department open house. She went there to thank the men who saved her life, something they deeply appreciated.
"We see more losses than we see wins like that," Spangler said. "It's especially nice when we have the opportunity to see her out and about in the community."