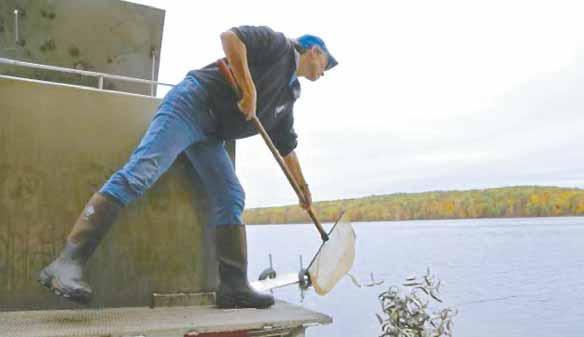 Taylor Storch goes about his duties as co-owner of Northern Lure Resort and Campground at Gordon Lake near Glidden with great optimism for the operation he and his wife Tiffany have run for the past five years.
That hasn't always been the case.
A few years ago he examined the Department of Natural Resources fisheries summaries for Ashland County lakes. What he saw in those surveys alarmed him.
The 2012 survey, the most recent available online, said the 132-acre lake had a density of 1.8 adult walleyes per acre, an estimated total of 258 adult fish in the lake. The report said that density of adult fish was "just below" the northern Wisconsin average for naturally reproducing lake walleye populations, which the DNR says typically average between two and five fish per acre. In 2013, that total grew slightly to an estimated 343 fish, or 2.6 per acre.
But a survey done in 2017 showed a severe downturn in the walleye fishery, with fewer than one fish per acre. DNR estimates were that as few as 66 adult fish remained in the lake. In addition, the sex ratio was badly skewed, said DNR fisheries biologist Zach Lawson.
"You like to see a lot more males than females, but we were down to one-to-one male per female," he said.
Without help, Gordon Lake could soon find itself without any walleyes whatsoever — and the Storches without customers. That's when Taylor Storch picked up the phone to see how the DNR could help save the lake and his business.
The decline
Lawson blamed the downturn on both fishing pressure and reduced natural reproduction. There had been no Native American spear fishing harvest in the lake since 1990, so that wasn't a factor.
The walleye decline is a recent phenomenon; DNR
records indicate that walleyes had not been stocked in the lake since 1964 because of the lake's natural reproduction.
What the figures didn't show, Storch said, was the declining catch of the fishermen who stayed at his resort.
"If they don't catch fish, you don't have customers," he said. "I can't really sell my place as a fishing resort if there are no fish in here."
While success for panfish like bluegills and crappies remained good, the prime fish for visiting anglers is the walleye.
"Fishermen who come up from the south are not looking to catch panfish," he said.
Storch got in touch with Lawson to ask for help and he said he was gratified with the results.
"Without any hesitation or argument he took my concerns to heart," Storch said.
He also took action. In 2018, the DNR planted 4,630 four-inch walleye fingerlings into Gordon Lake, and another is scheduled for 2020. The DNR also changed regulations on the lake so that anglers can keep walleyes only 15 inches or longer, and they can keep none that are 20 to 24 inches long — to protect the most productive female spawners.
Those changes, Lawson said, should help to jump start the walleye population of Gordon Lake.
Rebounding
For Storch, it's still a waiting game. Those planted fish won't be catchable until at least next year — those that survive the hazards of early life in a lake surrounded b eagles, ospreys, otters and bigger fish.
Storch said it's possible that the lake was overfished and that it might be necessary for it to be placed on a stocking schedule to keep it productive. But until he got desperate, he — like many anglers and people whose businesses depend on having fish available — didn't know how the DNR decided where to stock precious fingerlings.
Many anglers assume that the fish planting is always better in the next county over.
"The reality is that's not anywhere near the truth," Lawton said. "We stock whatever lakes need to be stocked based on the survey work that we do."
Lawson said that while it's true that Sawyer County, for example, consistently gets more fish stocking than Ashland County, there is a lot more water over there.
Ashland County has 217 named lakes, while Sawyer County has 691. The lakes also tend to be larger in Sawyer County. The Chippewa Flowage at 14,593 acres dwarfs Ashland County's largest lake, Butternut Lake, at 983 acres. The larger number of lakes naturally means a larger sports fishing industry, more anglers and more fishing pressure.
But regardless of where a lake is located, stocking is controlled by the same assessment process that determines where and how many fish will be planted, Lawton said.
Some of the factors that fisheries biologists use include the makeup of the fish community in a given body of water, and what type of habitat is available.
Lawson said it does no good to stock fish in a body of water where they won't thrive — a tanker truck full of trout won't do well an a warm, shallow bass and bluegill pond, for example.
In the end, however, fisheries managers must balance what is biologically possible against what the public wants out of their lakes.
"We have to take what is best for the system and mesh that with what people want," he said.
Meanwhile Storch awaits the 2020 fishing season when the first of the stocked walleyes should reach legal size, and when the second load if fish is due to be planted. Lawson also will be on Gordon Lake in October to do electro-shocking surveys to track success.
"I'll be really interested to see what he comes up with numbers and size, and to see how fast the fish are growing, the number of fish in an acre, the whole bit," said Storch, who was impressed by how responsive the DNR was to his concerns about Gordon Lake.
"He didn't just take my name and say 'we'll get to you when we get to you,'" he said.