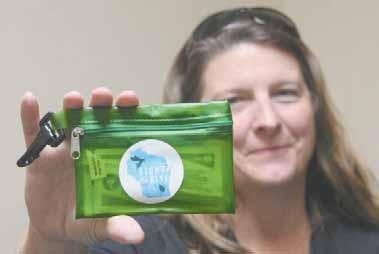 Ticks are small, but can take a big bite out of someone's health.
A case in point is Lyme disease, a tickborne illness that can lay a person low for months with a wide range of symptoms including fever, chills and fatigue to facial palsy to severe headaches and pain throughout the body.
And Bayfield County residents and visitors face a greater-than-average risk of contracting it.
"It's endemic here," said Sara Wartman, Bayfield County health officer, because the county is rural and wooded, providing the perfect habitat for ticks to thrive.
To raise awareness about Lyme disease and other tickborne illnesses striking Bayfield County, such as anaplasmosis and ehrlichiosis, intern Hannah Hitchcock and environmental health registered sanitarian Anne-Mary Coy successfully spear-
headed an effort to get a $10,000 grant from the state Department of Health Services.
Part of the money will go toward educating the public about the importance of preventing tick bites and reporting any confirmed or suspected tick-related illnesses. The county's rate of Lyme disease is nearly three times the state average, Wartman said, but health officials believe its prevalence is actually much greater.
Prevention
One of the tools the county is counting on to educate the public is a tick kit containing items such as insect-repellent wipes, tweezers to remove ticks and tick identification cards. Small plastic baggies also are included in the green, waterproof pouch to store ticks for later identification if a person becomes ill.
The county has given away about 700 of these kits this year, showing that the public is concerned about protecting themselves, Wartman said.
Next year's kit also will include information on how to report ticks. That's an important step toward helping the county keep track of emerging tick trends and make sure it soon knows if the lone star tick — a carrier of Rocky Mountain spotted fever — enters the area.
Besides taking preventive measures such as using tick repellents on skin and clothes, Wartman recommended that anyone who spends time outside immediately take a shower afterward to check themselves over for ticks and wash away the loose ones.
Health care
But sometimes taking careful measures fails to stop ticks and resulting illnesses, so the county wants to ensure that people know when to obtain medical assistance and that the area's health providers have the necessary knowledge to diagnose tickborne diseases.
One of the signature signs that a person has contracted a tickborne illness is a rash, but rashes don't appear in all cases. Only 70% to 80% of people who contract Lyme disease see its characteristic rash, according to the U.S. Centers for Disease Control and Prevention.
If other symptoms related to a possible infected tick bite arise, such as flulike fevers, sweating and chills, it's important seek medical attention, Wartman said.
With symptoms overlapping other betterknown illnesses, some providers who are new to the profession or the Northwoods may not have tickborne illnesses on their radar when a patient arrives in the examining or emergency room, Coy said.
The county hopes that correct diagnoses of tickborne illnesses will not only lead to better health outcomes for the patient, but improve efforts to more accurately report the prevalence of Lyme disease. Public health nurses will be working with providers so they learn to report cases — even suspected cases under certain circumstances — to the state.
For more information about Lyme disease or other tickborne illnesses, or how to get a tick kit, call the Bayfield County Health Department at 715-373-6109 or visit bayfieldcounty.org/Health.
Changing Climate, Changing Diseases
The Northern Great Lakes Visitor Center is hosting an event Thursday detailing how ticks are spreading northward and surviving longer because of climate change. This has changed how people contract tickborne illnesses and helped create new forms of illness that are more difficult to diagnose and cure.
The talk covers how an uncommon Lyme disease threatened the life of Spooner resident Jason Laumann and his long journey to recovery.
Dr. Andreas Kogelnik with the Tick Borne Illness Center of Excellence in Woodruff will describe his research and the challenges of treating and curing new tickborne diseases.
Becki Nelles, Bayfield County public health nurse, will describe regional trends in tick illnesses and follow-up care practices for sick patients.
For more information contact Ashland County Extension office at 715-682-7017.
Lyme Disease
Early Signs and Symptoms (3 to 30 days after tick bite)
• Fever, chills, headache, fatigue, muscle and joint aches, and swollen lymph nodes may occur in the absence of rash
• Erythema migrans (EM) rash
• Occurs in approximately 70 to 80 percent of infected persons
• Begins at the site of a tick bite after a delay of 3 to 30 days (average is about 7 days)
• Expands gradually over several days reaching up to 12 inches or more across
• May feel warm to the touch but is rarely itchy or painful
• Sometimes clears as it enlarges, resulting in a target or "bull's-eye" appearance
• May appear on any area of the body
Later Signs and Symptoms (days to months after tick bite)
• Severe headaches and neck stiffness
• Additional EM rashes on other areas of the body
• Facial palsy (loss of muscle tone or droop on one or both sides of the face)
• Arthritis with severe joint pain and swelling, particularly the knees and other large joints.
• Intermittent pain in tendons, muscles, joints, and bones
• Heart palpitations or an irregular heart beat (Lyme carditis)
• Episodes of dizziness or shortness of breath
• Inflammation of the brain and spinal cord
• Nerve pain
• Shooting pains, numbness, or tingling in the hands or feet
Source: U.S. Centers for Disease Control and Prevention