At midmorning on Tuesday, Main Street Ashland was empty.
Not lightly traveled, but empty; from Ellis Avenue as far west as one could see, there was not a car on the road.
This is the new reality of Safer at Home Wisconsin. Many businesses are simply shut down. Most restaurants, hairdressers, any business deemed non-essential had signs posted that were variations on the theme "closed because of coronavirus.'
A few restaurants remained open for takeout, but gone were the tinkling of ice into glasses and clatter of silverware that normally enliven the lunch hour. Even Huhn Drugs at 522 Main St. W. was requiring customers to get prescriptions by pick-up and drop-off only.
There were other restrictions as well. Thus the Midland Cooperative convenience store at 220 Third St. W. was still selling fried chicken, but all food had to be sold prepackaged. No more fresh pastries the customer could bag themselves. Not even any beef jerky a customer can pull out of a jar.
Still, a few customers stopped at the Midland where the safer at home regulations were a popular topic of conversation.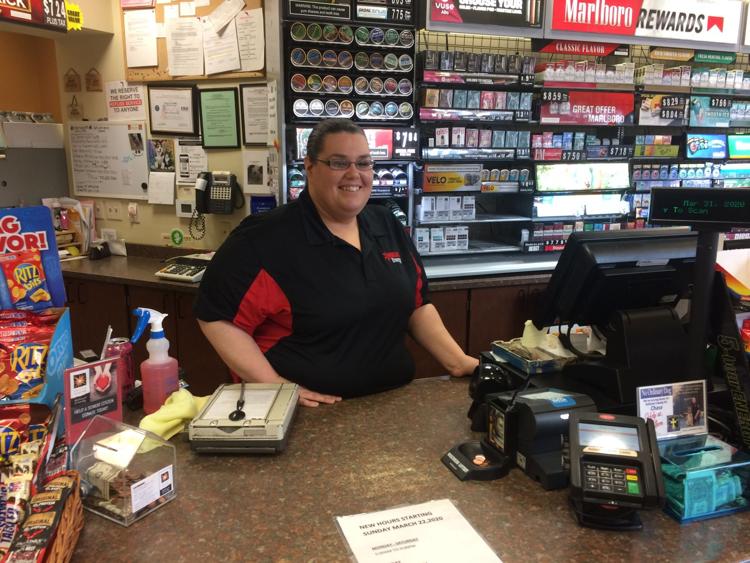 "A lot of people are saying they don't like it, but they are dealing with it," said sales clerk Cigi Jensen, who has idle time on her hands these days as business is off "a lot," even with gasoline plunging to its lowest price in a generation.
"It's been very, very slow. It makes for a long day with how slow it is, but its something we have to take seriously," she said.
Over at the Chequamegon Food Cooperative, Kiersten Galazen was marking her second day of being permanent general manager. She admitted it was a heck of a way to take over the job. She said
"It has been a little intense," she laughed.
Galazen said things were particularly hectic for a couple of weeks when the coronavirus first took off.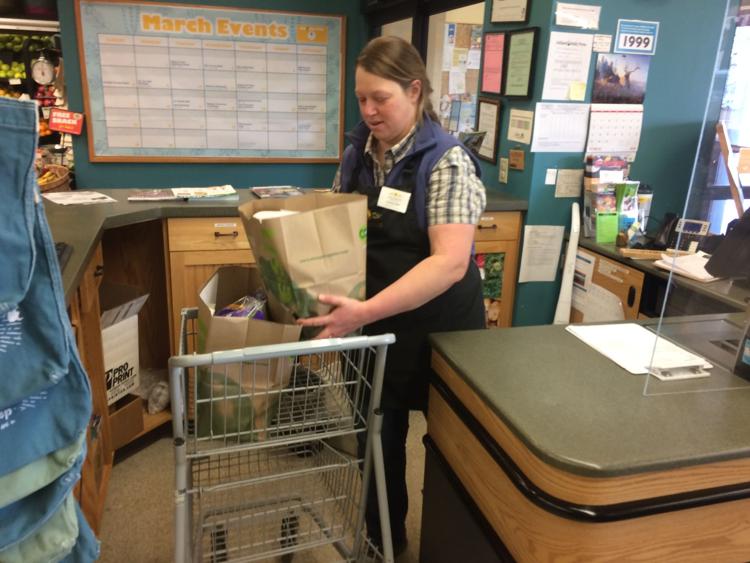 "Now what we are seeing is less numbers of customers, but bigger baskets," she said. "People are putting more thought into their shopping trips. That's exactly what we want to see; people not coming in if they don't have to."
Galazen said like other stores, the Chequamegon Food Co-Op was offering prepackaged food orders and trying to make a go of it during the shut-down.
"People can go to our website at chequamegonfoodcoop.com and will see a button that goes to our curbside order form and they can just fill out an order form," she said.
When the order arrives online, an employee fills a box with the order and it's ready to go when the customer arrives. The orders can then either be loaded into customers' vehicles or left curbside so the customer can load it themselves.
The co-op was also taking other precautions. A hand sanitizer awaits customers at the door and the floor has footprints painted on it, illustrating the six-foot buffer space of social distancing. Bulk food bins are closed off; if a customer wants their ration of bulk oatmeal or granola, they need to ask a store employee to dispense it into a plastic bag for them. Galazen said customers understand the precautions.
"They are very thankful for everything we are doing to try to keep them safe," she said.
At Super H Foods, 511 Main St. E., store manager Jeremy Daoust said he like other grocers has seen a run of customers stocking up.
"Since all of this has started we've had a lot more people doing all their shopping here," he said. "We have some older people who are trying to avoid all the large crowds in the big grocery stores."
Daoust said he has noticed an abrupt price increase for certain items.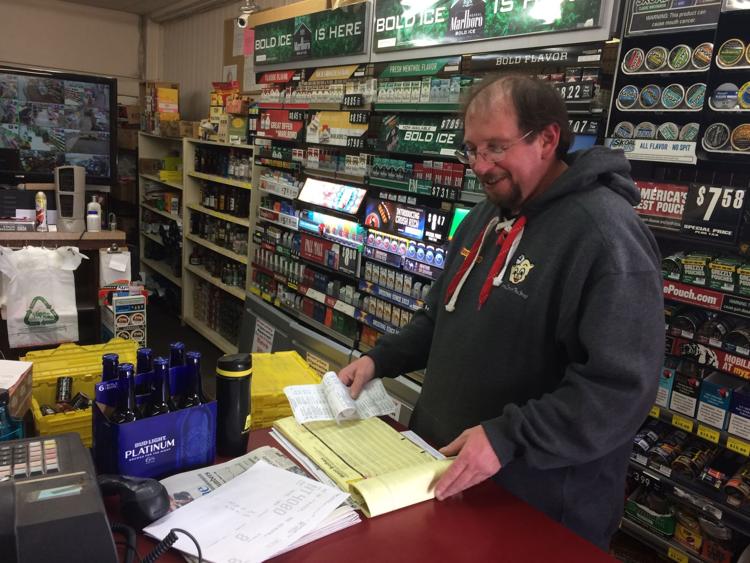 "The way egg prices are going up, they are like gold," he said.
At that moment, a customer came to the checkout. He had a carton of a dozen eggs.
"Did you see the price of eggs?" Daoust asked casually.
"No I really didn't pay attention," the customer replied.
"Four-twenty nine a dozen," Daoust said
"Oh geeze," the customer said in shock.
Eggs have seen prices take off since the start of the coronavirus pandemic. In January the wholesale price of Midwest large eggs, a benchmark for the egg market was as low as 78 cents a dozen. Since then, demand has spiked as high as six times that with no shortage at all in the supply chain, says Urner Barry, a business publisher specializing in food industry reporting.
Daoust said other commodities like meat have jumped steeply in price, too.
Customers talk about the prices when they stop, but they also try to work off the chronic cabin fever that is setting in with people confined at home as spring dawns.
"People are just getting bored," he said.
One customer, Ronette Silva, said she was fortunate, being able to work out of the house three days a week.
"For some, it's getting pretty boring, but you have to stay safe; we don't want to get each other sick," she said.
Silva said she missed visiting friends, although she stayed in touch with them on the phone.
"Still, it's not the same. I'll be glad when this is over," she said.